The Insurance Library Association of Boston occupies its building in the heart of the city where it has been for more than 100 years serving industry professionals and consumers.
The Insurance Library Association of Boston, founded by industry leaders in 1887, remains an institution unique in its capacity for facilitating research into all realms of insurance, whether the interest is of an historical or contemporary nature.
I've worked here for many years and virtually every day I'm asked a question I haven't been asked before— it keeps things interesting!
Would you like to trace the development of pollution exclusions on liability insurance policies?
Learn about the growing interest in pet health insurance?
Read about fractional premiums for life insurance policies?
Understand how umbrella and excess liability policies work?
Determine salary ranges for people working at insurance agencies or in risk management departments?
The questions go on and on. Fortunately, we have the resources at the Insurance Library to provide the answers. Our collection of books, periodicals, studies and research materials is enormous — so big we have our own building! — and our staff is experienced in accessing the right sources.
While we can research just about any insurance-related topic, our Saval Insurance Education Center offers ways for people to learn the answers themselves, including a full schedule of educational classes, designation programs, short courses and seminars. Our education programs build on an insurance education tradition begun in 1890.
People like me sometimes need motivators to do now what we might otherwise put off. Continuing education requirements can be a motivator to enroll in a course now, rather than later. Most of our education offerings qualify for continuing education credits for producers and adjusters. Courses include those for producer pre-licensing preparation and many for national designation programs such as the Program in General Insurance and the Chartered Property & Casualty Underwriter, Associate in Risk Management, Associate in Claims and Associate in Reinsurance programs.
Those new to the business can get a running start through participation in a variety of introductory courses taught by popular Joe Sciacca. These include Introduction to Property & Liability Insurance, Introduction to Underwriting, Introduction to Claims and Introduction to Risk Management.
Several years ago I overheard some young women complaining as they arrived for the first session of a class with Joe. They were lamenting that their employer was forcing them to do something they knew they would find totally boring. I asked them to come and see me before their second class to let me know how things had gone. They arrived for the second class full of high spirits and enthusiasm, and were gracious enough to acknowledge that I had been right in suggesting their complaints were inappropriate!
The personal and professional rewards of continuing education are many, and they are growing. Boston University, for example, counts completion of the Chartered Property Casualty Underwriter (CPCU) designation program as 16 credits or one-third of the requirements for a Master of Science Degree in Insurance Management. Cambridge College is considering accepting CPCU coursework toward Bachelor's and Master's Degrees.
Each year, the top student in the first part of the introductory program, INS-21, or Property & Liability Insurance Principles, receives a cash award and certificate. Maurice H. Saval established this award, the Frank W. Humphrey Golden Anniversary Award, in honor of Humphrey, whom he considered to be his mentor. Humphrey was at the agency Boit Dalton & Church, now Aon Risk Services of Massachusetts. The prize is intended as a special tribute to his assistance to young people entering the business.
It is fitting that the winner comes from one of Joe Sciacca's classes. He himself was the winner of the award at the beginning of his career in insurance—it obviously set him on the right path!
The Barbara W. Thornton Award, established in 1992, recognizes Thornton's outstanding contribution as a library trustee. Her leadership was crucial in re-establishing the library as an insurance and risk management education center. Each year the winner is selected from among candidates who have taken the ARM classes through the library and been awarded the ARM designation. The final choice is based upon examination scores.
The Insurance Library Association of Boston proudly occupies its building in the heart of the city where it has been serving industry professionals and consumers pursuing insurance knowledge for more than 100 years.
Any questions?
Lucey is director of the Insurance Library Association of Boston, 156 State Street, Boston, MA 01209. More information can be found at www.insurancelibrary.org.
From This Issue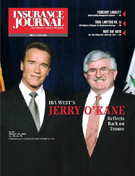 Commercial Property