Dorance Dean Bolton, founder of Pasadena, Calif.-based Bolton & Company Insurance Brokers, passed away on April 21, 2006, at the age of 96.
Bolton was a pioneer Southern California insurance broker and was a founding governor of what is now the Insurance Brokers & Agents of the West, or IBA West. In 1931 in Los Angeles, Bolton founded Bolton & Company, now one of the largest privately-owned insurance agencies in the United States. In the late 1960s, Bolton's two sons, Bill and Jim Bolton, joined their father in the family insurance business. In 1970, Dorance Bolton retired and sold the business to Bill and Jim.
Born May 13, 1909, in Coleraine, Minn., Bolton was the third of four sons born to George Sidney and Emby S. Bolton. Raised on a farm in Canada, he attended a one-room schoolhouse. In 1921, the family moved to Los Angeles. Bolton graduated from Manual Arts High School and attended U.S.C.
Dorance was preceded in death by his son Robert. He is survived by his wife Helen; sons Bill (Linda) and Jim (Joan) of Pasadena, Calif.; four grandchildren, and five great-grandchildren. A memorial celebration will be held on May 15, 2006, at 2:00 p.m. at Villa Gardens, 842 Villa Street, Pasadena.
In lieu of flowers, donations can be made to the Braille Institute Los Angeles Sight Center, 741 North Vermont Street, Los Angeles, Calif., 90029, or www.brailleinstitute.org/Centers/LosAngeles.htm.
From This Issue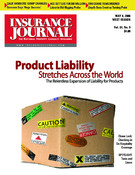 Product Liability Stretches Across the World