Long-needed, comprehensive reforms to Florida's workers' compensation system passed in last May's special session of the Legislature, culminating a long-term effort by Florida's business and insurance industry coalition, with the support of Gov. Jeb Bush and legislative leaders. Just six months have passed since SB 50A's Oct. 1 effective date, and implementation of the new law's cost-cutting and benefit-boosting provisions is now well underway. But some impatient voices are calling for the Legislature to dismantle these reforms.
Florida's workers' comp system had achieved the unenviable reputation as one of the most expensive systems in the country for employers, yet also provided the lowest statutory benefits to injured workers. A January 2002 study found that Florida employers were paying the second-highest rates based on premiums charged of any state in the country: an average of $4.50 for every $100 of payroll. Carriers were paying out $1.27 in claims for every dollar of premium.
Insurers were facing exploding claim costs that in turn hiked workers' comp costs and reduced the availability of coverage. Everyone knew the comp system was at a critical juncture: either pass major reforms in 2003, or see costs continue to rise. SB 50A accomplishments SB 50A addressed almost all of the cost drivers identified as presenting a serious threat to the financial stability of the Florida workers' comp system.
Among SB 50A's accomplishments:
• Reduces attorney involvement by eliminating hourly fees—a significant accomplishment in light of intense trial bar opposition that continued unabated until the very end. In Florida, claim costs when attorneys are involved were nearly 40 percent higher than in other states;
• Restores the original intent of Permanent Total Disability (PTD) by more closely aligning PTD eligibility with physical inability because of the injury to earn any wages. This meant eliminating a link to a confusing and litigious Social Security Disability test, requiring workers to suffer a truly catastrophic injury that makes them incapable of performing any work, thereby reducing PTD costs significantly;
• Controls medical costs by moving to a Medicare-based fee reimbursement approach, which reduces reimbursement levels for hospital care while increasing reimbursement levels for medical
providers—among the lowest in the nation—to ensure appropriate access to care;
• Strengthens causation between injury and work by requiring proof that a claimant's injury is the "major contributing cause" of any inability to work—and properly defining that term; and,
• Repeals construction industry exemptions through which contractors could avoid participation. Under previous law many uncovered workers who were injured could receive benefits through a contractor who never purchased coverage for them.
The positive impact for employers was almost immediate: the National Council on Compensation Insurance (NCCI) filed for—and the state Office of Insurance Regulation approved—a 14 percent decrease in rates weeks after the law was signed. NCCI estimated a cost savings of $420 million to businesses due to the 14 percent rate decrease. But these lower rates don't yet match up to the system costs already in the pipeline. OIR Director Kevin McCarty has estimated that it will take at least 18 months to see the law's full effects.
One exception to AIA's "hands-off" position toward the new law is the need to address the growing deficit in the Workers' Compensation JUA.
To address reduced availability last year, the Legislature created Subplan D as a market of last resort primarily for high-risk construction companies. Rates in Subplan D—a tier for which more than 80 percent of JUA policyholders now qualify —are capped at 125 percent of the admitted market rates, not high enough for the JUA to avoid an assessment against other JUA policyholders, as the law provides, or for some other remedy necessary to avoid insolvency. The JUA has already incurred a $6 million deficit since the enactment of SB 50A and a deficit of $36 million is projected through the end of 2004. While legislation has been introduced that would close the current deficit, a long-term solution is required—preferably one that permits the JUA to charge actuarially sound rates. Of course, the law already requires the JUA to be selffunding. However, a smaller assessment base combined with a large number of newly covered construction contractors angry about the "high" cost of coverage, has led to the present dilemma.
Going forward, Florida's business and insurance coalition will require SB 50A's major reforms are neither diluted nor overturned in the legislature or the courts at the behest of parties who do not have the best interests of claimants or employers at heart.
Cecil Pearce is vice president, Southeast region, for the
American Insurance Association (www.aiadc.org/).
Was this article valuable?
From This Issue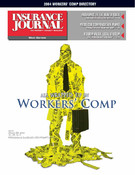 Workers' Comp Directory