Robert Fenley has joined Integro Insurance Brokerage as principal in their Chicago office. He will report to Nancy Aque, managing principal and head of the office.
Fenley has 22 years of experience in the insurance and risk management profession. He comes to Integro from CNH Global, where for 11 years he was senior director, Risk Management and Real Estate.
Michael Klee, senior vice president of Mesirow Financial in Chicago, has been selected as chair of the Small Business Practice Group for RiskProNet International Inc., a network of 29 independent insurance brokers in the United States and Canada.
Klee came into insurance through an unusual route: the California movie industry. He worked on production for feature films, doing everything from location scouting and casting to coming up with the numbers. Klee moved back to the Midwest in 1993 and considered going into business with his father who had a life insurance agency. Klee joined Mesirow Financial in 1998, and today is senior vice president and head of production for the small business unit.
Joe Zack, vice president at The Phoenix Group, based in Ripon, Wis., recently received the 2005 Agency Peak Performance EXchange New Producer of the Year award. The award recognizes new business generated by The Phoenix Group in 2005 when compared with similar sized insurance agencies.
The Phoenix Group's 34 employees write more than $14.5 million in personal and commercial premiums and have nearly a 100 percent retention rate in those lines, according to Albert Lloyd, executive director of APPEX.
Founded in 1958 by Sam Holmes, The Phoenix Group specializes in various types of commercial, personal, life and health coverages.
Zack, who joined The Phoenix Group in 1997, has a personal client retention rate of approximately 95 percent and specializes in tailoring health, vision and life insurance coverages to client needs.
Dallas-based Republic Companies Group Inc. recently hired Frank Vaccaro as the organization's vice president of Information Services.
Vaccaro most recently served as assistant vice president — Business Segment Partner of the financial departments of CNA Insurance in Chicago. At CNA, Vaccaro led the technology strategy and decisions for the enterprise billing and collections function and had technology oversight responsibility for finance/accounting, reinsurance, investments and actuarial business units.
Before joining CNA, Vaccaro spent eight years with Kemper Insurance and held the position of vice president and chief information officer. He started his career at First National Bank of Chicago and subsequently held positions at Telaction Inc., Kraft Foodservice and Alliance Systems Inc.
Vaccaro will report to Parker Rush, Republic's president and CEO.
Nicholas Ward joins the Swett & Crawford Minneapolis office from Burns & Wilcox where he served as an assistant underwriter of Property and Casualty accounts, with a special emphasis on transportation business.
James M. Shaffer has been named regional vice president of West Chester, Pa.-based Venture Insurance Programs, Midwest and Central regions.
He will identify new business opportunities and marketing Venture's products and services to insurance agents and brokers in Illinois, Indiana, Iowa, Kansas, Kentucky, Michigan, Minnesota, Missouri, Nebraska, North Dakota, Ohio, South Dakota and Wisconsin. Most recently, Shaffer was vice president of Venture's Technology and Life Science programs.
Prior to joining Venture in 2000, Shaffer was assistant vice president for Commonwealth Risk Services, a Philadelphia-based alternative market specialist, responsible for the development, design and implementation of large corporate risk structures through off-shore captive facilities. His experience also includes a position as production underwriter for the Philadelphia Insurance Co.'s Virginia and Washington, D.C., branches.
Swett & Crawford hired Margaret Jacobs who moves to the Chicago office from Aon Risk Services where she was managing director of the National Healthcare Practice overseeing, a $2 Billion health care book. In her 16 years with Aon, she moved from account executive to a manager of the Chicago healthcare practice, to regional syndication manager and National Healthcare Syndication manager. Prior to her long association with Aon, she was an account executive and assistant vice president at the Chicago office of Marsh & McLennan.
Aon appointed Kathy Burns as chief executive officer, Aon Risk Services Americas (ARS-A) eSolutions Group. With this appointment, Burns returns to Aon where she served from 1987 to 2002, after having spent the past three and a half years at Marsh as a senior executive in the company's CS STARS business unit.
In this role, Burns be in charge of the eSolutions business in the U.S., and focus on three premier technology platforms: AonLine, Aon RiskConsole, and Aon Safetylogic. She will also have global operational authority for these platforms.
Her appointment is effective immediately.
Lynden Kendrick has joined First Horizon Msaver Inc.as vice president of business development, the company revealed in a recent news release.
Kendrick was most recently with Wells Fargo Health Benefit Services, is an expert in health savings accounts and health reimbursement arrangements and a member of the Consumer Directed Health Plan policy committee for the National Association of Health Underwriters. He is a frequent guest speaker on topics regarding Flex, HRAs and HSAs and spoke at the Consumer Directed Health Care Congress in Washington, D.C., last December.
From This Issue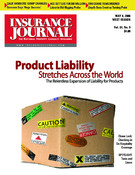 Product Liability Stretches Across the World