Losses from California Wildfires Could Reach up to $6 Billion, Experts Say
This story has been updated with the latest estimates on fire losses.
The wildfires raging in California are shaping up to become an infamous if not historic event.
The fires have destroyed 3,500 structures and counting, far exceeding the 2,820 structures destroyed in the 2003 Cedar fire in San Diego County, the largest total for a single fire recorded in state history.
One blaze alone, the Tubbs Fire in Napa and Sonoma counties, may account for a large share of the losses, according to Cal Fire.
"That's probably going to be a majority of it, probably upwards of 2,000 structures on that one," said Lynne Tolmachoff, a Cal Fire spokeswoman.
Estimates from catastrophe modeler RMS released on Friday morning show losses should range from $3 billion to $6 billion.
The state's 21 active wildfires as of Thursday afternoon had burned 191,437 acres, caused a reported 29 deaths and officials estimate that 50,000 people have been evacuated from their homes.
According to the National Interagency Fire Center, more than 8.5 million acres have now burned in the U.S. this year, more than double last year's total, putting the fire season on track to meet or exceed 2015's 9.2-million-acre total – the most in recent history.
This year's total is being pushed up in large part due to the fires in Northern California. Gov. Jerry Brown on Monday issued a state of emergency in Napa, Sonoma and Yuba Counties, and a state of emergency in Butte, Lake, Mendocino, Nevada and Orange counties.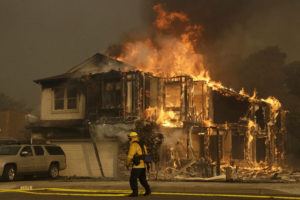 Considering there's only 10 percent containment or less on many of the larger wildfires, last year's burn total may get topped, according to Tom Jeffery, a senior hazard scientist at property data provider CoreLogic.
"I'm assuming with this outbreak of fires in California, we're pushing the 9-million mark and we could go beyond that," Jeffery said.
Expect economic losses from the wildfires to be staggering as well.
"Easily it's going to be well over $1 billion, and I wouldn't be surprised if it went over 2," Jeffery said on Thursday afternoon before RMS came out with its figures.
According to Boston, Mass.-based catastrophe modeler AIR Worldwide, the average rebuild cost of single-family homes within the perimeter of the Tubbs Fire, which is only at 10 percent containment with roughly 35,000 acres burned so far, is $450,000.
Buildings in that area are typically constructed of stucco walls and chimney finishes, have flat roofs covered with low-pitched clay tile and terra cotta or cast-concrete ornaments, according to AIR.
"The homes generally have little cleared area separating them from the surrounding vegetation, which consists of an equal mix of chaparral, brush, and conifers," AIR stated in a report on the fires issued today.
The steep and rugged terrain has made containment efforts difficult, and there has been no precipitation.
Stephen Poux, global head of risk management and loss prevention for AIG's private client group, said the carrier has several high net worth clients in the area who have been affected.
The private client group's wildfire protection unit has six fire mitigation battalions up in the area. Each battalion includes an engine that pumps fire-preventive material onto properties and staffing to handle the engines and help insureds.
"We've got wildfire teams deployed up in Napa right now," he said. "It's a very dynamic situation."
Some of their client's properties were totally destroyed, while others have stood with the help of mitigation, he said.
Poux said it is too early to offer loss estimates for AIG policyholders in the area.
Insurers are beginning to roll into some areas where the fires have been suppressed enough to clear the way for catastrophe teams, said Nancy Kincaid, a spokeswoman for the California Department of Insurance.
She said she's hearing that some residents are getting escorted to their homes so they can see if they have been destroyed or if they are still standing.
"We're just starting to see people realize their home is not standing," Kincaid said. "Yesterday, a lot of people didn't even know."
The CDI was busy fielding calls from consumers trying to reach their insurers or agents to get policy information or other help.
"We get quite a few calls from people who just say 'I don't have my information, I don't know what to do, I can't reach my broker.' They don't know who to call," Kincaid said.
She said communications were made more difficult when cellphone service in many affected areas was knocked out for a time.
"Towers were so badly damaged that people didn't have cell service," Kincaid said.
More than 8,000 firefighting personnel were battling the fires, and red flag warnings went up warning of gusty winds and low humidity across the fire area and much of Northern California, according to Cal Fire.
"Winds and low humidity, that's what's working against us at this point," Tolmachoff said.
Rain isn't expected for some time, likely later in the month.
Fierce winds, which have fanned flames with gusts as high as 70 mph, drove some of the fires from a few dozen acres to tens of thousands of acres in a short time span, Jeffery said.
The stage for these fires may have been in part set last year by the heavy rains in California, which was considered a blessing at the time because they effectively ended a multi-year drought.
The rains prompted hardy vegetation growth on top of ample dead fuel left over from the drought, Jeffery said.
"Now you've got a lot of fuel, you've got high winds, you've got low humidity," he said. "The wind is continuous. The wind is really driving this animal."
Related: