Firefighters battled roughly 10 wind-whipped fires across Northern California's wine country early Monday, triggering a rush by residents to flee the area.
Mandatory evacuations were ordered after blazes broke out late Sunday across four counties as strong winds buffeted the area,
With so many fires, residents of Sonoma County struggled to figure out what roads to take, finding downed trees or flames blocking some routes in the region north of San Francisco Bay.
Hundreds of evacuees gathered at an all-night Safeway market in Sonoma. Several residents said they saw homes burning.
The Press Democrat reported that flames destroyed homes and a historic barn, and authorities worked to clear out hospitals and senior centers in northwestern Santa Rosa, which is about 54 miles north of San Francisco.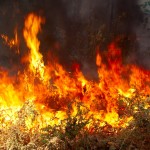 Deputies were dispatched to help firefighters and California Highway Patrol officers with evacuations, according to the Sonoma County Sheriff's Office.
Windsor Fire Chief Jack Piccinini said that nearly all of Sonoma County's fire resources were being used.
"Everyone in Sonoma County is spread out fighting these fires, but they don't have enough resources to handle something like this. The only thing we can do is hope the wind will come down," he said.
Emergency lines were inundated with callers reporting smoke in the area, prompting officials to ask that the public "only use 911 if they see actual unattended flames, or are having another emergency."
The National Weather Service said widespread wind gusts between 35 mph and 50 mph were observed in the north San Francisco Bay region and isolated spots hit 70 mph. The winds were expected to subside at midday.
Cal Fire reported that firefighters were battling a 200-acre fire in Napa County.
Community centers, the Sonoma County Fairgrounds and other local centers were opened for evacuees.
Copyright 2021 Associated Press. All rights reserved. This material may not be published, broadcast, rewritten or redistributed.
Topics California Catastrophe Natural Disasters Wildfire Homeowners
Was this article valuable?
Here are more articles you may enjoy.