Active wildfires in California have burned an estimated 1,500 homes and commercial structures, scorched more than 115,000 acres and reportedly killed 15 people.
Insurers and others who access damage are only beginning to get "boots on the ground," as the fires continue to rage.
According to a CoreLogic hazard risk analysis issued today, a total of 172,117 homes with a combined reconstruction cost value of more than $65 billion are at some level of risk from the wildfires in the Napa and Santa Rosa metropolitan areas alone.
The analysis is calculated based on homes within these two core based statistical areas and on five active fires: three in Napa (Patrick, Atlas and Tubbs) and two in Santa Rosa (Nuns and Pocket).
An analysis by modeler RMS also released today shows that there are roughly 15,000 structures in the overlap of the burn area and exposure in and around the Northern California fires.
"In addition to the burned structure damage, smoke may also be a major source of loss from this event," said Kevin Van Leer, an RMS expert on wildfire. "RMS is monitoring the latest satellite imagery and local reports to understand the scope of burned structures and damaging smoke."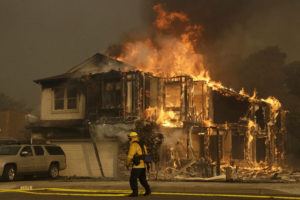 Gov. Jerry Brown on Monday issued a state of emergency in Napa, Sonoma and Yuba Counties, and a state of emergency in Butte, Lake, Mendocino, Nevada and Orange counties.
According to Cal Fire, the winds that fanned the fires Sunday night and Monday morning have decreased significantly, but local winds and dry conditions continue to pose a challenge.
"With the decrease in the winds combined with cooler weather, firefighters made good progress overnight," Cal Fire stated in a recent update.
Insurers are only now gaining access to some of the burn areas, said Nicole Ganley, a spokeswoman for the Association of California Insurance Companies, the California voice for the Property Casualty Insurers Association of America.
She said it was premature to offer any preliminary estimates on insured losses.
"Insurers are moving into the area and are ready to help policyholders," Ganley said. "It's really soon. There's still active firefighting."
With plenty of personal and commercial losses to go around, the toll is likely to be a big one.
"Unfortunately, this looks like it's going to be a larger scale disaster," she said.
Several of the wineries that heavily dot the area were affected.
The San Jose Mercury News is reporting that two Redwood Valley wineries were destroyed by the fires — Frey Winery and Oster Wine Cellars – and White Rock Vineyards, one of Napa's oldest wineries, confirmed it lost its family-owned winery in the fire.
Larry Chasin, CEO of Pak Programs, which designs and administers customized insurance programs for wineries and vineyards, breweries, wine and liquor retailers and others, said he's been fielding calls from insureds reporting significant losses at their wineries from the fires.
"We're getting calls from clients who are putting in claims for loss," Chasin said.
He said most of the reported losses so far are structures.
"It's a lot of structures," he said. "When you think of a large winery, it could be a city unto itself, with a tasting room a, wine cave, a barn, primary dwellings and guest houses as well."
With firefighting crews focused on saving lives and evacuations, in some instances commercial properties have had to wait in the cue for assistance, he added.
"We had an insured who was actually fighting a fire himself all day and he was calling and attempting to get a fire truck up there, which he was unable to do, and he finally lost the fight and watched the winery go up in flames," Chasin said.
Beside heat damage to trellises and vines, he said he expects to also see ample reported equipment losses, such as from water storage tanks, vineyard pump stations, potable water systems, piping, irrigation equipment, and waste water treatment systems.
He said he and his team are "ready to get boots on the ground" to go in and help property owners assess damages.
"I think that what we're seeing is that a lot of commercial property owners are just being granted access to these properties," he said. "The claims are just beginning to roll in right now."
He added, "The speed, power and intensity of this is just tough to imagine."
The Insurance Industry Charitable Foundation is collecting donations to help support people affected by wildfires raging across the state. IICF has created the IICF California Wildfire Relief Fund.
Those who wish to make a donation to the fund can visit this website.
Following is a partial list of fires of interest being compiled by Cal Fire:
Tubbs Fire, Sonoma and Napa County
Between Calistoga and Santa Rosa
27,000 acres
Significant number of commercial and residential structures destroyed
CAL FIRE Incident Management Team assigned
Atlas Fire, Napa County
South of Lake Berryessa and northeast City of Napa
25,000 acres
Multiple structures destroyed
CAL FIRE Incident Management Team assigned
Redwood Complex, Mendocino County
Hwy 20, Potter Valley and Redwood Valley area
21,000 acres
Multiple structures destroyed
CAL FIRE Incident Management Team activated
Cascade Fire, Yuba County
Maryville Road and Loma Rica Road, Loma Rica
11,500 acres, 15 percent contained
Now part of the Wind Complex
Related:
Was this article valuable?
Here are more articles you may enjoy.