Cal Fire is reporting that 17 people are confirmed to have died in the wildfires throughout the state this week and that at least 3,500 homes and commercial structures have been destroyed by the fast-moving blazes.
"Overnight fire conditions were very active on several fronts forcing additional evacuations across Northern California," a statement from Cal Fire Reads. "Firefighters are battling 22 large wildfires that have burned nearly 170,000 acres."
Cal Fire said firefighters are bracing for winds to shift this evening and increase in speed.
Cal Fire confirmed that 17 people died in the wildfires this week, with 11 people alone dying in the Tubbs Fire, making it the 6th deadliest fire in California history.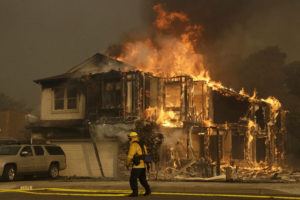 Emergency Declarations have been proclaimed by Gov. Jerry Brown for Napa, Sonoma, and Yuba Butte, Lake, Mendocino, Nevada, Orange and Solano counties.
Red Flag Warnings have been issued for much of Northern California due to gusty winds and low humidity starting today.
"While these winds may hamper the efforts of firefighters, they will also increase the risk for new wildfires," Cal Fire said in its statement.
According to the latest rankings available from A.M. Best, five large carriers have roughly half the state's marketshare for homeowners insurance.
State Farm Group, with 19.53 percent of maketshare and a reported $1.5 billion in direct premiums written tops the list. Farmers Insurance Group follows with 16.18 percent of marketshare and $1.24 billion in direct premiums written.
Other carriers on the list are: CSAA Insurance Group (6.67 percent), Allstate Insurance Group (6.40 percent); and Auto Club Enterprises Insurance Group (6.28 percent).
Related:
Was this article valuable?
Here are more articles you may enjoy.