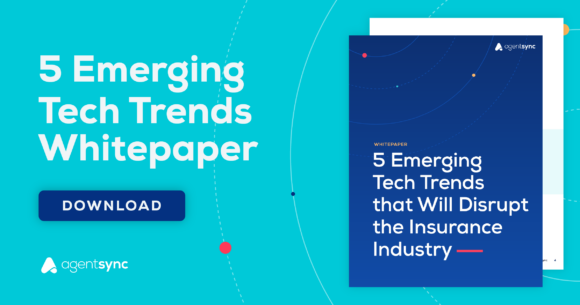 This post is part of a series sponsored by AgentSync.
The insurance world isn't moving at the speed of light quite yet, but technology is still bound to transform the ways insurance agents and carriers do business with one another and their customers.
High-tech developments have the potential to impact the insurance industry and its practices from top to bottom and front to back. In fact, they already are.
A recent study by McKinsey & Company analyzed the top 10 tech trends currently (or soon to be) transforming the insurance industry. Of the 10, the five that will bring the most transformation to the insurance industry are:
Artificial intelligence
Cloud-native infrastructure
Advanced connectivity (also known as the Internet of Things)
Advanced modeling and digital twins
Zero-trust security protocols
Although these aren't the only things happening in the world of insurtech, they have the greatest potential to dramatically improve the way the insurance industry operates by saving time, money, and even lives.
If this sounds intriguing, download our White Paper: 5 Emerging Tech Trends that will Transform the Insurance Industry. For a quicker read, here's a brief look at how connectivity advancements are poised to make a difference in the lives of everyday people, including insurance agents and operations or claims-processing teams at carriers and MGAs/MGUs, along with the general insurance-using public.
What are connectivity advancements?
The invention of smartphones showed people it was possible and desirable to be connected to the internet at all times. Since then, companies have gotten pretty creative capitalizing on the ever-growing human need for connectivity (hello, smart fridge!).
Advancements in connectivity and Internet of Things (IoT) devices have benefited our personal lives, allowing us to stay up to date with long-distance friends, track our behaviors, and feel safer in our homes, just to name a few. Connectivity advancements have also infiltrated our professional lives, with many companies harnessing IoT technology to improve efficiency and coordinate operations.
What do connectivity advancements mean for the future of insurance?
If the pandemic taught businesses anything, it's the need for company-wide digitization and connection. Now more than ever the ability to stay connected to your customers and coworkers is a crucial factor in the success of your insurance business.
Through IoT devices, insurance companies can connect more frequently with their customers by adding touch points in particularly sensitive phases, like acquisitions and claims. By increasing the frequency of connecting with customers and the specificity of the data being shared, insurers can more accurately understand a customer's risk and provide a more accurate view of their coverage needs.
Examples of connectivity advancements in the insurance industry
Wearable health technology, from fitness trackers to smart blood sugar monitors, that inform underwriting and actuarial decisions
The use of the same wearable health technologies to detect risk and prevent illness before it happens, thus reducing claims costs
Connected cars that report driving habits back to insurers and allow rates to be calculated based on personalized risk factors
Four other tech trends to look out for
Connectivity advancements are only the start. Download our White Paper to learn about all five of the technological advancements coming soon to an insurance industry near you.
If you're ready to make your insurance business "smarter" without further delay, take a look at what AgentSync can do for you right now. No future-tech needed.
Was this article valuable?
Here are more articles you may enjoy.