This post is part of a series sponsored by CoreLogic.
Severe convective storms—the group name given to tornadoes, hail, and straight-line winds—are among the most common and damage-inducing natural catastrophes in the United States, frequently topping the lists of annual claims for most insurers.
On Sunday, March 3, an early-season outbreak of tornadoes raced across areas of Alabama, Georgia, Florida, and South Carolina. In a few hours, over 40 tornadoes touched down, the most damaging of which rated an EF4, classified as having between 166 and 200 mph winds. This tornado occurred south of the community of Beauregard, Alabama, where 170 mph winds wreaked destruction nearly one mile wide. Sadly, it claimed at least 23 lives, the deadliest tornado to occur in the U.S. since in over 5 years.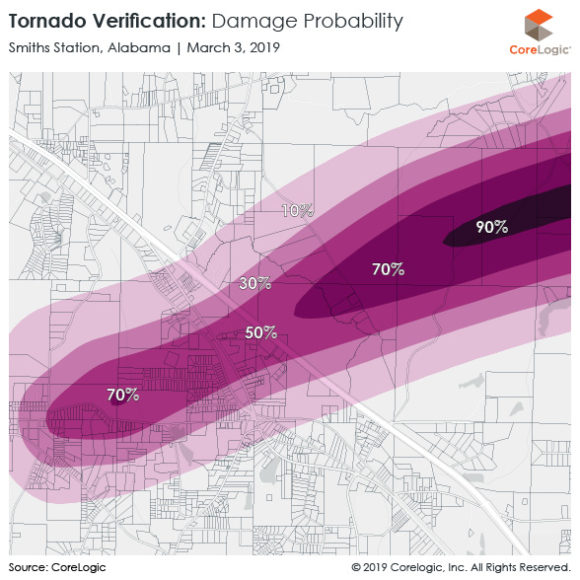 The image shown above is a high-resolution map of the area near Smith Station, Alabama, with highlighted contours of the damage swath from the tornado breakout of March 3.
Numerous tornado touchdowns over a broad area impacted many homes and businesses that day. Tornado damage is generally driven by intense wind speed and direction along the path. CoreLogic Reactor produced a quick snapshot of the severity of events on that day.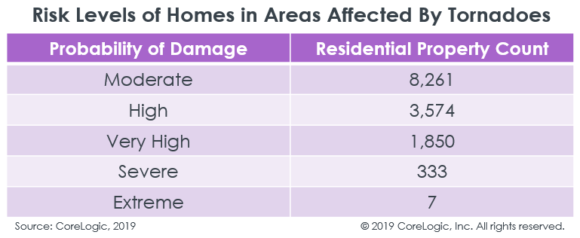 14,025 homes were in areas affected by the tornadoes that day, with 2,190 homes in areas where most of the properties saw damage from the tornadoes. Of these homes in the area, approximately 3,000 homes were damaged by tornadoes that day.
Tornadoes are a unique attritional peril in that even a brush against one can be catastrophic for homes and the lives of the people in them. To truly be resilient, carriers need more than an understanding risk—preparing homeowners for anything that may come their way, given this information, is the critical tipping point.
For more information and to keep up to date with events as they happen, please visit our natural hazard risk information site Hazard HQ™.
Was this article valuable?
Here are more articles you may enjoy.