It would take a storm the size of Hurricane Katrina to deplete the more than $15 billion the National Flood Insurance Program can access to pay claims. Unfortunately, a storm the size of Hurricane Katrina might be exactly what we get.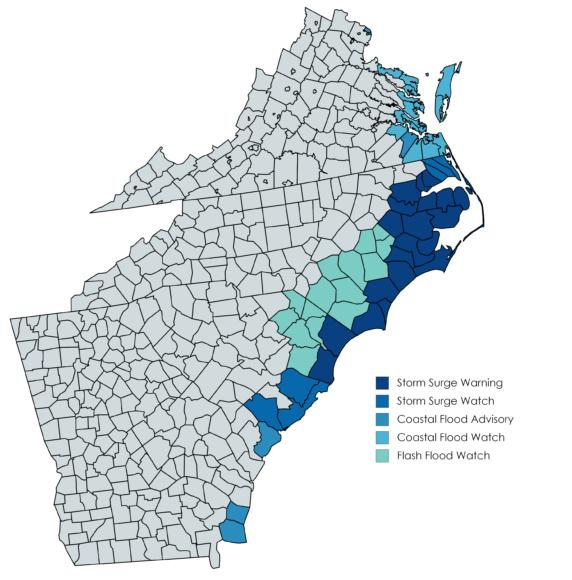 While the odds that Hurricane Florence—expected to make landfall early Sept. 14 in Southeastern North Carolina as a Category 3 storm—will completely exhaust the federal program's claims-paying capacity would have to be considered slim, there is a significant possibility that it will add to the roughly $20.5 billion the NFIP owes to American taxpayers.
The 400-mile-wide storm is expected to arrive with a mammoth 13-foot storm surge and could dump as much as 40 inches of rainfall on parts of the Carolinas. It already has prompted a statewide emergency declaration from North Carolina Gov. Roy Cooper and a raft of emergency warnings up and down the coast.
According to the most recent data from the Federal Emergency Management Agency, the NFIP has more than 400,000 policies and roughly $100 billion of insurance in-force in counties currently under one or more of a variety of public flood warnings, from storm surge warnings to coastal flood advisories to flash flood watches. Though the largest swath of exposure is in North Carolina, neighboring South Carolina has the most insured value at risk, with $35.5 billion of NFIP insurance in-force in counties under storm surge watches or warnings and another $14.3 billion in counties under coastal flood advisories.

To be sure, an extraordinarily high proportion of those policies would have to experience losses before the NFIP would come close to running out of money. As of March 31, FEMA reported the NFIP had $15.4 billion of claims-paying capacity, including $5.06 billion in the program's Flood Fund and $445.7 million in its Reserve Fund. It also has $1.46 billion of reinsurance that kicks once losses exceed $4 billion. The reinsurance program covers 18.64 percent of the NFIP's losses between $4 billion and $6 billion and 54.315 percent of losses between $6 billion and $8 billion.
And if all else fails, the program still has about $9.9 billion remaining under its statutory authority to borrow from the U.S. Treasury. Thanks largely to claims from Hurricane Harvey, the NFIP actually hit its $30.425 billion borrowing cap almost exactly a year ago, prompting Congress in late October to forgive $16 billion of the program's debt. Additional claims from Harvey and Hurricane Irma forced it almost immediately to borrow another $6.1 billion from the Treasury last November.
To come close to burning through all of the program's resources, Florence would have to approach the record $16.3 billion the NFIP paid out in 2005 for Hurricane Katrina. But losses on the order of 2012's Superstorm Sandy or last year's Harvey, each of which produced about $8.7 billion in NFIP claims, would force the program to expend all its cash resources and use all of its reinsurance. That would mean turning, once again, to the taxpayers.
It's a familiar tune for the NFIP. Since 2004, the program has borrowed $39.4 billion from the Treasury and repaid just $2.82 billion of that principle. Indeed, the Congressional Budget Office projects the program should be expected to lose, on average, about $1.4 billion a year for the foreseeable future.
One option to staunch that bleeding would be to encourage more of the risk of flooding to shift from the federal government to the private sector. Legislation to encourage further growth of the still relatively small private flood insurance market passed the U.S. House last year. But despite bipartisan sponsorship from Sens. Jon Tester, D-Mont., and Dean Heller, R-Nev., it has yet to advance in the Senate.
With less than three months before the NFIP's statutory authorization is scheduled to expire, let's hope that lawmakers will take up the whole panoply of reforms the program desperately needs – not just private flood, but investments in mitigation and updated maps, as well as phasing out subsidized and grandfathered rates across the board. With Florence, Mother Nature is once again giving us a stark reminder that the current system is unsustainable.
Was this article valuable?
Here are more articles you may enjoy.