As flash flooding from Hurricane Florence continues to wreak catastrophic damage across the Carolinas from Wilmington to Asheville, the National Flood Insurance Program is exposed to $44.5 billion of insurance in-force in North and South Carolina counties already under flood warning, in addition to another $820 million of insurance in-force in counties facing flood advisories and watches.
Perhaps most disconcerting of all, while flood coverage is fairly common in the coastal counties that took the initial brunt of Florence's storm surge, very few have coverage in many of the inland counties now under threat.
COUNTIES UNDER FLOOD WARNINGS AND ADVISORIES, SEPT. 16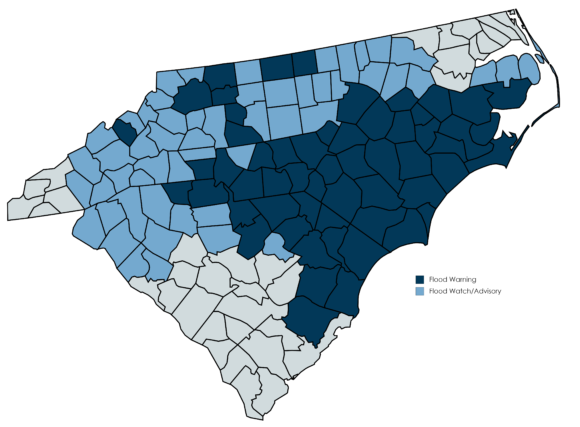 In 70 of the 111 counties across the two states under flood warning, advisory or watch, less than 1 percent of the housing units have NFIP coverage, based on Federal Emergency Management Agency and U.S. Census Bureau data. That includes North Carolina's two largest counties, each home to roughly 1 million people: Mecklenberg, which includes the city of Charlotte, and Wake, which includes the city of Raleigh. Though both counties are under flash flood warning, and Wake is also under an areal flood warning, the NFIP's takeup rate in Mecklenberg and Wake counties is just 0.8 percent and 0.7 percent, respectively.
However, the NFIP does have significant takeup in coastal Carolina, insuring more than a quarter of the housing units in Carteret, Tyrrell and Pamlico counties, North Carolina, and coastal Georgetown and Horry counties, South Carolina. The program's takeup rate is more than a third of housing units in Berkeley County, South Carolina, and Hyde County, North Carolina; and more than 60 percent in Dare County, North Carolina.
Horry County, which includes Myrtle Beach, has the greatest concentration of NFIP coverage in-force of any county under flood warning, at $10.2 billion. Berkeley County, which includes Charleston, is second, at $9.0 billion. Five North Carolina counties currently under flood warning – Brunswick, New Hanover, Carteret, Onslow and Craven – each had more than $1.0 billion of NFIP coverage in-force.
NFIP EXPOSURE IN COUNTIES EXPOSED TO FLORENCE FLOODING

It obviously remains to be seen what proportion of properties suffered flood losses. Pre-landfall estimates from the catastrophe modeler Risk Management Solutions put the range of total insured losses from wind and flooding at between $15 and $20 billion, but that was when the storm was expected to make landfall as a strong Category 3 hurricane. CoreLogic put its early post-landfall estimate of insured losses from wind and storm surge – but not river flooding or areal flooding caused by record rainfalls – at $3 billion to $5 billion.
As I mentioned in the last update, it would take a flood on the order of 2012's Superstorm Sandy or last year's Hurricane Harvey (both of which clocked in at $8.7 billion of NFIP claims) to exhaust all of the program's reserves and its $1.5 billion reinsurance package. Should Florence produce totals in that range, the program would be forced to begin drawing down its remaining $9.9 billion of borrowing authority from the U.S. Treasury. Coming into the 2018 Atlantic hurricane season, the NFIP's debt to U.S. taxpayers was $20.5 billion
FEMA estimates the program has $15.4 billion of claims-paying authority. Were Florence to deplete that entire amount, it would be up to Congress whether to raise the program's borrowing cap from the current $30.4 billion. Alternatively, Congress could choose to forgive some of the program's debt, as it did last fall with a $16 billion debt forgiveness package.
In addition to coverage written by the NFIP, both North Carolina and South Carolina have small but growing private flood insurance markets. According to S&P Global statutory insurance data, there was $12.7 million of private flood insurance written in South Carolina in 2017, up 20 percent from 2016. In North Carolina, the total was $9.4 million, up 59 percent from the prior year. Private coverage represented 8.5 percent of flood insurance premiums in South Carolina and 7.8 percent in North Carolina.
Was this article valuable?
Here are more articles you may enjoy.