Agents shopping for errors and omissions coverage should compare the details of the policies because not all E&O policies are the same, according to experts in this market.
As Scott Goodreau, chief risk officer for global broker Hub International, told attendees at the PLUS (Professional Liability Underwriting Society) International conference in San Diego, "Agents should spend as much as time on their own insurance as they do on their clients'."
This means taking the time to understand the provisions that vary from carrier to carrier and policy to policy. It also means scouring the exclusions for surprises.
According to Lisa Doherty, CEO, Business Risk Partners, now may be a good time for agents to shop around for E&O coverage. She described the market as "fluid."
You have to protect the assets you built up over the years.
"We've had a few people exit. We've had a few more people come in," she told Insurance Journal and Claims Journal in an interview after she moderated a PLUS discussion on agency E&O.
Doherty said there are a few big players in this space that have been consistent, including Fireman's Fund and Westport. But there are "a lot of other players who have been in and out," she said.
Whether agents shop around now or later, there are some important policy provisions they should read carefully. Most important, agents should understand if the policy is just claims made or if it is claims-made-and-reported.
For E&O policies, claims must be made, or made and reported, within the period covered by the policy. They typically have a retroactive date, which is important to note because claims arising out of acts committed prior to this retroactive date will not be covered.
Whether a policy is claims made or claims-made-and-reported is a "subtle distinction" but it can greatly affect applicability of coverage if the agency doesn't report properly, according to Doherty.
"There are some policies that are just claims made. As long as the claim is made against you during the policy period, that policy will apply," she said. "If it's a claims-made-and-reported, the claim has to be made against the insurance agent and reported to the carrier during the policy for the coverage to apply."
The claims orientation of a policy takes on added importance whenever there is a merger. "Make sure there is no gap where the purchased agency's E&O ends and yours begins," Goodreau told the PLUS audience.
Agents should know how the policy defines the professional services that are covered and what activities are included, and not excluded, in the policy. It is critical that this definition be tailored to cover what the agency actually does, PLUS panelists stressed.
"Look at the definition of professional services covered because it can vary dramatically by policy and by exclusions," said Sabrena Sally, who is senior vice president for Swiss Re Corporate Solutions.
For instance, the definition should reflect if a property/casualty agency is expanding into employee benefits, or offering risk consulting services in addition to standard personal and commercial lines products.
"You really want to make sure if you're doing some claims adjusting, or if you're doing loss control, or other ancillary services, premium finance, for example — you want to make sure that that's spelled out in your definition of professional services, so you're covering everything that you might be doing as an agent and broker or related to that," said Doherty.
"Your E&O carrier needs to know what and where you are placing," said Goodreau. "We work closely with our carrier so they know what we are doing."
Goodreau said that Hub, as a way to manage E&O exposures, sometimes contracts with third parties to handle services that its own agents or brokers may not be highly trained in.
Daniel Kohls, a partner in the Sacramento law firm, Hansen, Kohls, Jones, Sommer & Jacob, said agents should be well educated in whatever lines they do offer. Because of the economy, he said, more intermediaries are now "going into markets they are not familiar with and practice areas they don't understand." One consequence can be a weakened defense if there is an E&O claim.
Agents should understand the definition of expenses in a policy as well as how defense costs are handled. Whether defense costs are within or outside the limits of the policy can make a huge difference if there is a claim.
"Limits are typically aggregated but defense costs can be included inside or not included. This is very important to know and compare," said Sally.
Deciding what limits to buy can also get tricky.
Sally advised agents to look first at whatever limits the agency's contracts with its carriers require as a minimum. Then the agency should consider the coverages it sells and whether its clients are high-end. Commercial lines, professional liability and bonds typically need higher limits than personal lines, she said.
Doherty offered similar advice.
"Are you placing really complex risks with high limit profiles? If you're placing a $25 million program and buying $2 million of E&O limit, that just doesn't make sense. You need to look at the exposures that you've got.
"You also want to think about the assets that you're trying to protect. If you've got $10 million in the business, somebody might go after that $10 million," Doherty said.
Sally said she has seen many cases of agencies with limits that are too low. "You have to protect the assets you built up over the years," she advised.
However, the experts agreed, there is some risk in selecting high limits.
Sally Combs, technical director for professional liability claims with Fireman's Fund Insurance Co., said agents should keep in mind that a "claim can be fashioned to the limits" of an E&O policy.
Doherty agreed that high limits could be a "double-edged" sword. "The more you buy, potentially, the greater the settlement," she said.
But no one advocated low limits.
Doherty said limits that are too low could also influence claims settlements and harm negotiations.
"If you have a $1 million limit and the total exposure is $10 million, the carrier has less options in terms of what it can do to help you settle. You really want to make sure that you don't put them in an adverse position because there's more exposure than there is limit," she said.
There are other policy terms that agents should compare. These include provisions about claims tied to placement with insolvent carriers, where suits may be brought and whether the agency must use counsel from the insurer's panel or is free to use its own lawyers.
Some policies offer no coverage at all for claims related to placement with an insolvent carrier, while others peg coverage to the insurer's rating (for instance, it must be at least B+) at the time the policy was procured.
As for choice of counsel, an agency might negotiate for a "mutually agreeable" choice of counsel if it does not want to accept a lawyer from the insurer's own panel, Goodreau said.
While it is rare for an E&O complaint to end up at trial, it does happen. Kohl said cases that go to trial are a "drain on a firm."
If it happens, the provision on where suits can be brought becomes important. Sally noted a case where an agency principal and key employees spent two years commuting because they had to be in court for trial.
Reading the exclusions is important. Doherty cited a policy purporting to insure a managing general agency (MGA) that excluded breach of underwriting authority. "Well, that's an obvious exclusion for an MGA that they need to have. You need to look for those kinds of issues in each policy," she told Insurance Journal.
Of course, agents should consider the carrier behind any policy, too. In addition to the financial stability of the carrier, agents might weigh how long the carrier has been in the agency E&O market, the carrier's panel of legal counsel, its history of claims handling and its level of E&O expertise, according to panelists.
An agency's E&O carrier should be knowledgeable about the products and services the agency offers, Swiss Re's Sally said. "The E&O carrier can be asked to step down into the shoes of the primary carrier so it is good to know if the E&O carrier is well-versed in the product lines the agency sells," she said.
E&O shoppers should not overlook the importance of the application, because how they handle it can make a lasting impression. Agents should take the time to accurately and adequately complete the app, according to Doherty.
There are risks in changing carriers or policies. It's common for a new carrier to ask agents to warranty that they know of nothing that could give rise to a claim.
"If you're a national organization with 22 branch offices, you really need to make sure that you've talked to the El Paso branch and that you know what's going on there, and the Vermont branch, so that you're not missing something, because the onus is on the insured to bring out anything that might possibly give rise to a claim," Doherty said.
E&O and PLUS on IJTV
Lisa Doherty, Business Risk Partners, and Scott Goodreau, Hub International, discuss agency E&O and other PLUS speakers address other liability issues on IJTV.

E&O Policy Terms to Watch
Claims made vs. claimsmade-and-reported
Professional services definition
Defense coverage
Insolvency exclusion regarding carrier
Exclusions
Claims reporting requirements
Extended Reporting Period provisions
Territory definition
Source: PLUS
From This Issue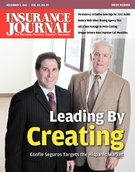 Program Directory, Vol. II – Volume Two of the Agent's Favorite Program Placement Resource