East
The Hilb Group, 360 Corporate Benefit Advisors
The Hilb Group LLC has acquired New England-based 360 Corporate Benefit Advisors. The transaction became effective May 1, 2019.
With offices in Fairfield, Conn., and Wayland, Mass., 360CBA is an employee benefits consulting firm providing insurance brokerage, administration and advisory services to businesses primarily in the Northeast.
All of 360CBA's employees, including Agency Leaders Paul Lambert, Sean Carney, Jason Jaworoski and Steve Nadeau, are joining THG and will continue to operate under 360CBA's existing name.
THG is a middle market insurance agency headquartered in Richmond, Va. The company now has 80 offices in 19 states.
Brown & Brown of Massachusetts, Twinbrook Insurance
Brown & Brown of Massachusetts LLC has acquired substantially all of the assets of Twinbrook Insurance.
Founded in 1960, Twinbrook Insurance provides property and casualty insurance products and services to customers throughout New England and Florida. The firm has a large concentration in the hospitality and aviation industries.
Following the transaction, the Twinbrook Insurance team will operate as a new stand-alone office within Brown & Brown's Retail Segment and will continue doing business under the leadership of Joe Rizzo, the sole shareholder of Twinbrook Insurance Brokerage Inc. and Twinbrook Insurance Agency Inc., from its existing locations in Braintree, Mass.; Holbrook, Mass.; Hyannis, Mass.; and Kingston, Mass.
Brown & Brown's new Twinbrook office will also maintain a presence in Broward County, Fla.
Brown & Brown Inc. is an insurance brokerage firm providing risk management to individuals and businesses.
The Hilb Group, Pfister Insurance
The Hilb Group LLC has acquired Delaware-based Pfister Insurance Inc. The transaction became effective June 1, 2019.
Located in Dover, Pfister is a full-service property and casualty agency. Pfister's agency leaders, Mel Warren, Jim Watkins and Scott Foltz, will continue to lead the agency's associates out of the current office location.
THG is a middle market insurance agency headquartered in Richmond, Va., and is a portfolio company of Boston-based private equity firm, Abry Partners.
World Insurance Associates, Links Insurance Services
World Insurance Associates LLC, an independent insurance agency headquartered in Tinton Falls, N.J., has acquired Links Insurance Services LLC of Wall, N.J., on June 13, 2019.
Links Insurance Services LLC was established in October 2001.
WIA offers personal and business insurance in 50 states.
The Links acquisition brings WIA's current annual run rate revenue to more than $50 million. The company specializes in transportation, hospitality, self-storage facilities, construction (surety), manufacturers and law firms. WIA also provides group benefits and property and casualty insurance to companies of all sizes.
South Central
LP Risk, Houston Surplus Lines
Texas-based managing general agency and surplus lines broker, LP Risk, has acquired the assets and operations of Houston Surplus Lines, an independently owned wholesale insurance brokerage.
Houston Surplus Lines team will become a part of LP Risk and will expand the company's presence in Texas.
Founded in 1994, Houston Surplus Lines has long standing agency relationships in Texas. Specialties and areas of expertise include commercial property and casualty, professional, garage and personal lines. Along with knowledge and expertise, the company will bring numerous binding authority contracts to LP Risk's expanding platform of markets.
Arthur J. Gallagher & Co., BluePeak Advisors
Arthur J. Gallagher & Co. has acquired BluePeak Advisors LLC, headquartered in Bartonville, Texas.
With employees operating across the United States, BluePeak Advisors assists health plans, employers, pharmacy benefit managers, pharmaceutical companies and other health care alliance companies with Medicare and Medicaid operational and compliance issues.
Babette Edgar, Sherry Pound and their associates will continue to operate from their current locations under the direction of Seth Friedman, Health Plan Services leader for Gallagher's employee benefits consulting and brokerage operations.
Arthur J. Gallagher & Co., a global insurance brokerage, risk management and consulting services firm, is headquartered in Rolling Meadows, Ill.
Midwest
Virtus, Cobbs Allen
Insurance brokerage, Virtus, has acquired Cobbs Allen's Kansas City employee benefits practice. This acquisition supplements Virtus' Kansas City presence and adds depth and expertise to its employee benefits practice group.
Virtus was founded in Kansas City in 2013 with a focus on building a next generation insurance brokerage and consulting firm. Virtus subsequently has added offices in Chicago and Fort Collins.
Virtus CEO Andrew Gray said in a press release that the company "will continue investing in high quality teams and people to enhance our client solutions and add scale to our business.
Cobbs Allen is headquartered in Birmingham, Alabama. Cobbs Allen will continue to maintain a property/casualty presence in Kansas City.
DOXA Insurance Holdings, Financial Risk Solutions
DOXA Insurance Holdings LLC, a privately held holding company based in Fort Wayne, Indiana, has acquired Financial Risk Solutions Inc., the Chicago-based parent of the Chill-Pro Insurance Program. The program provides comprehensive commercial HVAC service contract insurance and product warranty insurance.
Financial Risk Solutions President Jim Wilson and his staff will maintain operations, retain the Financial Risk Solutions and Chill-Pro names, and remain headquartered in Chicago.
DOXA Insurance Holdings partners with and acquires small to medium, independent managing general agencies with established brand recognition in their niche markets, consistent track records of success, and whose ownership seeks a business succession option without limiting or sacrificing full control of operations.
Southeast
Arthur J. Gallagher & Co., Stonehenge Insurance Solutions,
Arthur J. Gallagher & Co. has acquired Palm Beach Gardens, Fla.-based Stonehenge Insurance Solutions Inc.
Founded in 2007, Stonehenge Insurance Solutions offers commercial insurance products and consulting services to professional employer organizations and staffing clients throughout the United States.
Stonehenge delivers specialized products such as worker's compensation; professional, employment practices, general and cyber liability; commercial, hired and non-owned auto; workplace violence; umbrella coverages; and other customized products.
Jeff Rendel, Troy Reynolds, Chris O'Connor and their associates will relocate to their new offices in Tequesta, Fla., this month under the direction of Peter Doyle, head of Gallagher's Southeast region retail property/casualty brokerage operations.
Arthur J. Gallagher & Co., a global insurance brokerage, risk management and consulting services firm, is headquartered in Rolling Meadows, Ill.
Southern Harvest, Confie
Confie, a national provider of personal and commercial lines insurance, is acquiring Southern Harvest Insurance. The move will broaden Confie's U.S. presence to include Georgia and further develop its presence in Alabama.
Southern Harvest is a non-standard auto insurance provider with 24 locations in Georgia and five in Alabama.
Confie CEO Cesar Soriano said Southern Harvest's foothold in the state of Georgia will bolster its strategic growth plan as it enters a new market.
Southern Harvest is Confie's first strategic acquisition in the state of Georgia and the first step in the broker's plan to continue to grow in that market. Confie's continues to grow its personal lines business, strengthening its presence in existing markets and into new ones.
Established in 2008, Confie is a national insurance distribution company primarily focused on personal lines and small commercial insurance. The company has market positions in California, Arizona, Texas, Florida, Washington, Tennessee, Oregon, Massachusetts, New York, New Jersey, Nevada, New Mexico, Illinois, Indiana, Alabama, Kansas, Wisconsin, South Carolina, Missouri, Idaho, Georgia and Louisiana.
West
AssuredPartners, RIS Insurance Services
AssuredPartners Inc. has acquired RIS Insurance Services of Anacortes, Wash.
The team of 40 RIS Insurance Services employees will remain under the operational leadership of Jim Jermyn and Bill Gillespie. The agency currently reports $7 million in annualized revenues.
RIS Insurance Services offers personal and commercial insurance, and specializes in truck insurance.
Lake Mary, Fla.-based AssuredPartners Inc. acquires and invests in insurance brokerage businesses across the U.S. and in London.
Was this article valuable?
Here are more articles you may enjoy.
From This Issue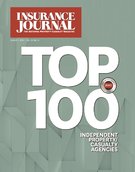 Top 100 P/C Agencies; Markets: Recreation & Leisure, Condos