East
High Street Insurance Partners, Gates-Cole Associates
Traverse City, Michigan-based High Street Insurance Partners has acquired Gates-Cole Associates in New Hartford, New York. Financial details of the transaction were not disclosed.
Gates-Cole Associates is a central New York-based insurance agency with nine offices in the greater Syracuse area. The agency sells property and casualty insurance plans to employers and individuals in New York state. President Bill Cole and Vice President Tom Cole will remain active in the business in their current roles.
High Street, one of 15 Huron Capital ExecFactor initiatives, was created to pursue growth through add-on acquisitions in the insurance agency market.
Hub International Northeast Limited, The B&G Group
Hub International Limited, a global insurance brokerage, has announced that its affiliate, Hub International Northeast Limited, acquired the assets of The B&G Group Inc.
Located in Plainview, N.Y., The B&G Group provides commercial insurance to various industries, including real estate, business services and construction. Additionally, it is a personal insurance broker serving individuals and families.
With The B&G Group, Hub adds more than 100 employees to its Northeast regional presence, bringing the total number of employees in Long Island to 350. Evan Bower, president of The B&G Group, will join Hub Northeast and report to Doug Schenendorf, president of Hub's Long Island division.
Hub International Limited is committed to growing organically and through acquisitions to expand its geographic footprint and strengthen industry and product expertise.
Headquartered in Chicago, Ill., Hub International Limited is a full-service global insurance broker providing property and casualty, life and health, employee benefits, investment and risk management products and services.
---
Midwest
BKS-Partners, Rosenthal Bros.
Baldwin Krystyn Sherman Partners LLC, the middle-market subsidiary of Tampa, Florida-based insurance distribution firm, BRP Group, has acquired substantially all assets of Rosenthal Bros. Inc., a Chicago-based provider of property/casualty insurance, employee benefits and private client solutions to middle market companies and individuals.
Rosenthal Brothers generated annual revenues of approximately $18.8 million, according to the company's announcement. With approximately 55 employees across two offices, Rosenthal Brothers specializes in insurance products and services for the real estate industry with a focus on large habitational real estate.
Rosenthal Brothers will be rebranded under the company's BKS-Partners banner.
On June 1, BRP Group also announced that BKS-Partners acquired substantially all assets of Trinity Benefit Advisors Inc. and Russ Blakely & Associates LLC, Tennessee-based providers of employee benefit plan management, as well as marketing and benefit plans designed for middle-market companies.
Buckle, Gateway Insurance Co.
Buckle, an insurtech startup focused on rideshare insurance, has acquired Gateway Insurance Co., a subsidiary of Schaumburg, Illinois-based Atlas Financial Holdings, for an undisclosed price.
The move allows Buckle to expand its commercial auto coverage capacity and reach via a partnership with Atlas.
Buckle's purchase of Gateway includes its 47 state insurance licenses. Gateway provides auto insurance to the light automobiles market in the U.S. Atlas primarily focuses on U.S. commercial auto insurance, zeroing in on the light commercial automobile sector in areas such as taxi cabs, non-emergency para-transit and limousine/livery.
Buckle said it made the decision to purchase Gateway as a way to support a management general agency owned by Atlas – Anchor Group Management Inc. By doing so, Buckle will now be working with Atlas to sell auto insurance to the commercial auto market for clients including part-time rideshare and delivery drivers, full-time taxicab and limousine drivers, non-emergency paratransit drivers, and transportation network companies (TNCs).
The deal calls for Buckle to support Anchor Group as it scales annual premiums, the companies said. As well, Anchor Group will transition Atlas' taxi, livery and full-time TNC driver policies from its pool of subsidiaries over to Gateway.
Buckle, based in Georgia, debuted its driver rideshare policy with personal and commercial cover in February.
---
South Central
Higginbotham, Ascend Insurance Brokerage
Dallas-based Ascend Insurance Brokerage, which specializes in the entertainment industry, has joined forces with Fort Worth-based Higginbotham.
In business for 20 years, Ascend Insurance Brokerage specializes in commercial coverage and risk management for the entertainment industry. Its brokers have expansive backgrounds in entertainment, including prior roles in artist management, concert promotion, film production, touring and venue management. Ascend clients include North America concert promoters, entertainers, festivals, film producers and venues.
Higginbotham has an office in Dallas and another six offices in the broader DFW area.
Higginbotham named Ascend CEO Paul Bassman as a managing director. The 13-person group will operate as Ascend, A Higginbotham Company until consolidating with Higginbotham's office at 15660 North Dallas Parkway.
---
Southeast
Applied Underwriters, Blue Ridge
Blue Ridge Specialty Group of Greenfield, South Carolina, an MGU specializing in the placement of trucking related risks, has been acquired by Applied Underwriters, according to Applied Chairman and CEO Steve Menzies.
Blue Ridge, which works with agents and brokers, will retain its operations in South Carolina; the company will continue to be headed by its principals and co-founders, Mike Gordon and Shane Dennie.
Menzies said the addition of Blue Ridge sets complementary services into combination and serves as part of Applied's expansion in the P/C space.
Applied Underwriters is a global risk services firm offering business services, insurance, and reinsurance solutions. Applied Underwriters operates throughout the U.S. from its operational headquarters in Omaha, Nebraska.
Total Insurance Plus, Flatlands Jessup Insurance Group
Total Insurance Plus LLC, an alliance of independent insurance agencies, has welcomed Flatlands Jessup Insurance Group LLC to its agency network.
Flatlands Jessup Insurance is based in Washington, N.C., and has five offices in the eastern part of the state.
The agency provides personal and commercial insurance, crop insurance, and benefits to businesses and individuals. It is owned by Marc Jessup.
Total Insurance Plus LLC formed in 1998 and is based in North Carolina. TIP continues to expand across the Southeast with more than 50 members and over $88 million in combined written premium.
The Hilb Group, Fort Myers Insurance Agency
The Hilb Group LLC has acquired Florida-based Fort Myers Insurance Agency Inc., dba Freedom Insurance Center. The transaction became effective June 1, 2020.
FIC is a property and casualty full-service agency that focuses mostly on homeowners and auto policies for individuals in the state of Florida. Agency leader, Mark Pollock and his associates will continue to operate out of FIC's existing locations in Fort Myers and Cape Coral.
Ricky Spiro, CEO of THG, said the acquisition will expand the scope of the company's offerings in Florida.
The Hilb Group is a middle market insurance agency headquartered in Richmond, Va., and is a portfolio company of global investment firm, The Carlyle Group. THG seeks to grow through targeted acquisitions in the middle market insurance brokerage space. The company now has over 90 offices in 20 states.
Lighthouse Property Insurance, Prepared Insurance Co.
Lighthouse Property Insurance Corporation has completed its previously announced merger plans with sister carrier, Prepared Insurance Company.
Lighthouse will assume the Prepared portfolio and write directly in the state of Florida, resulting in a unified carrier with over $200 million of gross written premium. Lighthouse also owns Lighthouse Excalibur Insurance Co., a Louisiana domiciled carrier with just over $60 million of gross written premium.
According to David Howard, president, Prepared joins Lighthouse as one company with over $50 million in policyholder surplus and 170,000 homes insured across the Southeast.
Prior to the merger, Lighthouse offered property and casualty insurance policies in Louisiana, Texas, North Carolina, and South Carolina. With the acquisition of Prepared, Lighthouse will begin to offer its portfolio of insurance products to the residents of Florida.
Prepared Insurance will take the Lighthouse Insurance name, but current servicing, underwriting, and claims process for Florida policies remain the same.
Lighthouse Property Insurance Corporation is an admitted property and casualty insurance company authorized to write in Florida, Louisiana, North Carolina, South Carolina, and Texas.
---
West
Genstar, Palomar
Genstar Capital announced it has exited its remaining stake in specialty property insurer Palomar Holdings Inc. in La Jolla, Calif.
Genstar in 2014 partnered with current CEO Mac Armstrong to form Palomar, a new specialty insurance platform company that was funded with $75 million of equity capital from Genstar and the management team.
In the last six years, the company has expanded its geographic reach and product footprint. Genstar helped take the company public in April 2019 and since monetized its investment. Palomar announced the underwritten public offering of 5 million shares of the company's common stock earlier this year.
Palomar is listed among California's top writers of earthquake insurance.
As part of the sale, Clark will step down as chairman of Palomar's board of directors and will be succeeded by Armstrong. Richard Taketa, a current member of Palomar's board and a member of Genstar's Strategic advisory board, will become lead independent director.
Genstar Capital is a private equity firm based in San Francisco. Genstar reports $19 billion of assets under management.
Was this article valuable?
Here are more articles you may enjoy.
From This Issue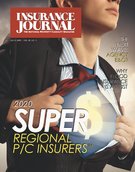 Super Regional P/C Insurers; Markets: Flood & Earthquake, E&O; Annual Ad Reader Study