Reasonable Doubt
"Because of this intervening weather event, the state is unable to prove the criminal responsibility of the two juveniles beyond a reasonable doubt for the devastation that occurred outside the Great Smoky Mountains National Park."
— Tennessee District Attorney General Jimmy Dunny, who announced in June that charges against two boys accused of starting a massive wildfire in the park would be dropped. The fire started in late November last year and killed 14 people and damaged or destroyed thousands of structures.
Unfair Practices
"For too long, automobile insurance companies have been using unfair practices to increase premiums."
— Delaware Insurance Commissioner Trinidad Navarro, announcing the passage of a measure targeting unfair discriminatory practices used by automobile insurance companies to determine premium costs. The state Senate passed House Substitute 1 for House Bill 80, which the insurance department supported, by a vote of 24-1.
Marijuana and Workers' Compensation
"We're not providing an opinion or moral judgment on someone's use of marijuana or not, and we're certainly not taking a position opposed to the value of medicinal marijuana to treat certain medical conditions or chronic pain. This was really simply a legal decision."
— Marty Welch, CEO of Hawaii Employers' Mutual Insurance Co., said the state's largest workers' compensation carrier notified seven dispensaries preparing to open this summer that their policies will be canceled in 30 days and that premiums would be refunded since marijuana is considered illegal by the federal government.
Trademark Underdog
"It was surreal being the underdog in this battle, and sitting across from four lawyers representing Mars. This time the underdog won. I can't wait to get back to my chocolate kitchen in Madison."
— Syovata Edari, a Wisconsin attorney and chocolatier, comments on the dismissal of a trademark lawsuit filed against her by candy maker Mars Inc. In its lawsuit, Mars claimed Edari's chocolates branded as CocoVaa, are "confusingly similar" in name to the company's cocoa extract supplements, called CocoaVia. Edari accused Mars of "trademark bullying."
Infrastructure Woes
"In our opinion, if you want to have a progressive growing state, you've got to have an infrastructure to carry the traffic. … We've lost funding, like three years in a row, that have delayed some of these projects."
— Gene Wallace, executive director of the Association of County Commissioners of Oklahoma, comments on a report by the national transportation group, TRIP, showing that Oklahoma's rural roads and bridges are among the nation's worst. Wallace said counties have invested about $900 million to improve roads and bridges over the last 12 years. He estimated it will take about $3 billion to $4 billion to make a difference.
Was this article valuable?
Here are more articles you may enjoy.
From This Issue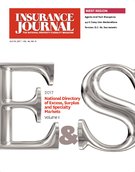 Excess, Surplus & Specialty Markets Directory, Volume II