There continues to be a disconnect between homeowner beliefs and behaviors, especially when it comes to protecting against the most common source of property-related damage: water.
That's according to the annual Chubb Homeowners' Risk Survey, which found that when it comes to water damage, homeowners express concern about property protection yet continue to take a passive approach to risk management.
The study found several inconsistencies between homeowner beliefs versus their actions:
The overwhelming majority of homeowners surveyed (89%) report being "very" or "somewhat" confident in their ability to check for possible damage or maintenance issues around their homes. But more than four million homeowners still submit a property claim each year.
External weather threats and internal water damage round out the top three concerns for homeowners when it comes to perceived home threats. Yet, no more than one of every five homeowners surveyed takes any single water-related risk mitigation best practice.
Half of all homeowners (51%) think a plumbing or appliance water leak costs less than $5,000 in damage. However, according to Chubb's internal claims data from 2014 through 2018, the average water leak cost is more than $55,000, and the average water back-up loss for homeowners is almost $45,000.
Of those homeowners that tried to mitigate water risk, the Chubb survey found that many are not taking the right steps. According to the survey, less than 20% of respondents implemented any single water risk mitigation best practice. While water is only becoming a greater threat to homeowners, for the most part, the percentage of homeowners taking the necessary risk mitigation best practices for water has decreased year-over-year.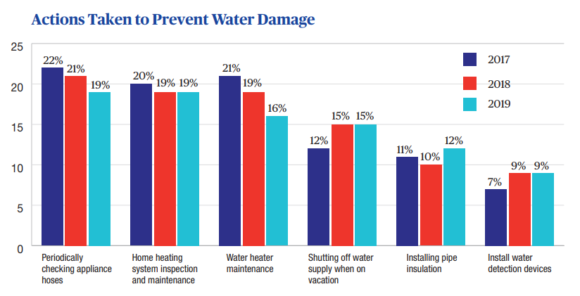 The report also said that homeowners often perceive claims for wind damage, which often occur in tandem to weather-related flooding incidents, to be much less than average claims. The Insurance Information Institute found that the average wind/hail claim runs $10,182.
Unfortunately, 16% of homeowners believe the average corresponding damage to be under $1,000 and a quarter think it costs between $1,000 and $5,000.
According to the survey, however, there is one universal theme that compels homeowners to act – extreme weather.
In addition to ranking as the second most pressing property concern for homeowners, two-thirds of homeowners report that when reflecting back on their most recent home improvement or maintenance project, they were motivated by an approaching storm or in response to weather-related damage.
"For comparison, just 21% took home protection measures as part of a planned renovation), 9% when getting ready to put their home on the market, and only 7% in response to a neighbor, friend or family member doing the same," according to the report.
Was this article valuable?
Here are more articles you may enjoy.
From This Issue
Small Business Market; Hospitality Risks Directory; Markets: Homeowners & Auto; Special Supplement: The Florida Issue; Webinar: Cyber – What Agents Need to Know