Wood Products
Market Detail: Continental Underwriters (www.contund.com) works with more than 30 carriers that specialize in forest products and is equipped to manage any placement for an agent or a broker. Coverage includes businesses involved in the manufacturing and distribution of forest products. These include: sawmills; veneer mills; pallet mills; plywood plants; wood preserving operations; drying operations; all types of woodworking/millwork plants; manufacturers of timbers, cants, and railroad ties; lumber yards, and retail and wholesale building materials distributors.
Available limits: As needed
Carrier: Unable to disclose
States: All states
Contact: Melissa Berry at 804-643-7800 or e-mail: melissa@contund.com
---
Active Assailant
Market Detail: Midlands Management Corp. (www.midlandsmgt.com) is a wholesale broker, program administrator and insurance services provider with admitted and non-admitted carriers and exclusive programs. Midlands Active Shooter covers expenses incurred in the aftermath of a violent incident, including: legal liability – coverage for damages and claim expenses an insured will become legally obligated to pay following an Active Assailant incident; physical damage coverage – indemnity for physical loss or damage to Insured Property caused by an active assailant incident; business interruption coverage – indemnity for direct physical loss, damage, or destruction to insured property, denial of access to an insured location, threat to an insured location (provided it is substantiated by authorities). Insurers will indemnify the insured for specialist crisis response and consultant fees resulting solely and directly from an active assailant or threat event and pre-event consulting and risk assessments. Coverage available for weapons includes any handheld instrument, gun, tool, device or appliance, explosive devices, vehicles, corrosive substances. Extra expense coverage includes: costs of increased security in the aftermath; public relations expenses; funeral expenses, burial and/or cremation costs for victims of incident; medical expenses for any insured present during the incident; and costs for psychiatric counseling for any person traumatized by an incident.
Available limits: As needed
Carrier: Unable to disclose, admitted
States: All states
Contact: Mandee Wilson at 800-800-4007 or e-mail: marketing@midman.com
---
Medical Spa
Market Detail: Calco Commercial Insurance (www.calcoinsurance.com) specializes in medical spa insurance. Coverage provides indemnity protection for the owners, officers, directors, doctors and nurses, for both licensed and non-licensed staff. Coverage provides protection against malpractice insurance claims arising out of the alleged or actual injuries sustained by their clients. Injuries include laser burns and botched procedures. Coverage features include: package (GL/PL/property/cyber); free consent forms; 11% commission; Liability premiums starting at $900; property premiums from $500. Targeted markets from small to multi-state operations, new ventures to multi-state operators; medical spas, wellness centers, beauty related, cryotherapy. Available coverages include: general liability, professional liability, property, sexual abuse, cyber liability, license action reimbursement, defense outside of limits, HIPPA, hired/non-owned auto.
Available limits: Minimum $1 million, $5 million maximum
Carrier: Unable to disclose, non-admitted
States: All states
Contact: Sarkis Kaladzhyan at 877-225-2699 or e-mail: sarkis@calcocommercialinsurance.com
---
Beauty Product
Market Detail: Insurance Canopy (www.insurancecanopy.com) product liability insurance for beauty and cosmetic supplies protects companies who manufacture, import, or distribute makeup products from lawsuits and claims that arise from their products' exposure on the market. For example, an allergic reaction from a beauty product could result in a claim that costs the company thousands of dollars in fees and awards.
Available limits: As needed
Carrier: Great American
States: All states except D.C.
Contact: Jordan Wilcox at 844-520-6993 or e-mail: jordanw@veracityins.com
---
Coverages Customized for Fiduciaries
Market Detail: SES Risk Solutions (www.ses-ins.com) has been an insurance partner for financial institutions, private trust companies, and wealth management firms serving as fiduciaries for real estate portfolios for three decades. One policy is available for an entire portfolio. One expiration. One point of contact. One full year of coverage. The SES Master Trust Policy safeguards the entire portfolio under one policy and includes property ($5 million per location per occurrence); liability ($1 million/$2 million per location); personal property; time element; equipment breakdown; earthquake; flood; varied property types, including residential, commercial (lessor risk), land, farm and ranch, and personal property assets. Broader coverage than the homeowners' market with higher limits available.
Available limits: As needed
Carrier: Unable to disclose, non-admitted available
States: All states
Contact: Kelly Cretti at 714-352-4928 or e-mail: kcretti@ses-ins.com.
Was this article valuable?
Here are more articles you may enjoy.
From This Issue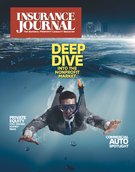 Agency Mergers & Acquisitions; Markets: Nonprofits, Commercial Auto