Hard to Place Businesses
Market Detail: Aspera (www.asperains.com) offers commercial general liability and products completed operations liability for difficult-to-insure businesses in over 200 eligible classes. Options can be tailored forr hard-to place-risks, including an array of small-to-medium sized recreation and leisure classes. All risk can be considered but risk that have been non-renewed, have a poor loss history or are located in a difficult legal venue are particularly targeted. Target classes for general casualty coverage includes: amusement and arcade facilities and events; aquariums, museums, and zoos; auditoriums, convention halls, performing arts centers, theaters; bowling alleys; campgrounds/RV parks; churches; condo and homeowners associations; country, golf, and tennis clubs; e-cigarette and vapor stores; escape rooms; family entertainment and amusement centers, excluding trampoline centers; flea markets; firearm stores; fuel haulers; gas stations; go-karts, batting cages, and mini-golf; grocery stores and supermarkets; gyms/fitness centers; habitational; hotel, motel, and resorts – will consider long-term single room occupancy; hunt clubs and shooting ranges; lessor's risk; kiquor liability (supported); movie theaters; paintball and laser tag facilities; property managers; quarries; restaurants; retail stores; schools; shopping centers; special events; tourist attractions; vacant land and buildings; and warehouses.
Available limits: As needed
Carrier: Unable to disclose, non-admitted
States: Calif., Colo., Fla., Maine, Mich., Ore., Texas, and Wash.
Contact: Aspera Marketing at 804-774-2101 or e-mail: marketing@asperains.com
---
Veterinary and Animal Services
Market Detail: Safehold Special Risk (www.safehold.com) offers coverage specially designed for veterinary and animal service organizations' needs with affordable, competitive prices and a highly rated insurer. Eligible classes include: veterinary practices primarily devoted to the care and treatment of household pets; mixed practices with large animal and equine operations; specialty veterinary hospitals, including 24 hour emergency hospitals; mobile veterinary practices; veterinary behaviorists; pet day cares and pet lodging; pet groomers; pet trainers; humane Societies, SPCA's and other animal shelters and welfare organizations with veterinary and shelter/kennel exposures may be considered. Coverages include: workers' compensation; businessowners policy; professional liability; business auto; and umbrella. Additional coverage options available including: directors and officers liability; employment related practices; and network security and privacy (cyber). Special Features for professional liability
have been negotiated such as elimination of the so-called "hammer clause," which means no settlement without the veterinarian's written consent. This gives the insured the right to defend their reputation by refusing recommended claim settlements by the insurance company. Access to legal defense coverage if the insured is required to defend license challenges from the veterinary licensing board is also available. Extra endorsements available. Professional liability BOP makes available separate limits up to $2 million per occurrence, with a maximum aggregate of $4 million per year. An expanded definition of "who is covered" addresses the exposures of modern practices and organizations. In addition, professional liability on a stand-alone basis outside of the BOP can be offered. License defense with up to $100,000 per year for legal expenses incurred defending complaints brought by the state licensing board. Animal bailee automatic coverage for an animal dying, being injured or lost while in the insured's custody. No limit on the number of animals in each claim. Emergency relocation with extended coverage for the expense of relocating boarded animals to safety.
Available limits: As needed
Carrier: Unable to disclose, admitted
States: All states except Alaska, Calif., and Hawaii
Contact: Heather Turner at 470-868-6930 or e-mail: heather.turner@safehold.com
---
Cannabis, CBD and Hemp Program
Market Detail: CannGen Insurance Services, LLC (www.canngenins.com) all lines program is available in all states and tailored to the needs of these emerging industries. Target Classes include: Cultivators, processors/harvesters, manufacturers, wholesale distributors, transporters, retailers, dispensaries, labs, property managers, lessor's risk (LRO)/building owners, and ancillary businesses. Coverages include: Workers' comp; package – property/crop, general liability, excess liability; product liability/product withdrawal; transportation – commercial auto (Calif., Wash., Ore., Ariz., Ill., and other states to follow), motor truck cargo; and onsite consumption.
Available limits: Minimum $500
Carrier: Unable to disclose, admitted and non-admitted available
States: All states
Contact: Michael Sidore at 916-956-2302 or e-mail: msidore@canngenins.com
Was this article valuable?
Here are more articles you may enjoy.
From This Issue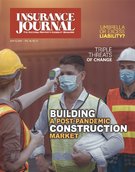 Construction Market & Risks Report; Markets: Umbrellas (Personal & Commercial)