There probably are few American small business owners who could correctly identify the federal group whose primary job is to keep the president of the United States updated on the activities of government such as management, spending, interagency cooperation and work performance. But countless small-business owners, especially manufacturers, may soon be doffing their hats to the Office of Management and Budget for doing its job.
Many of the greatest problems small businesses face are government-related, particularly something they call "unreasonable government regulation." The problem ranked ninth out of 75 headaches listed in the National Federation of Independent Business Research Foundation's most-recent quadrennial survey, "Small-Business Problems and Priorities."
Forty-four percent of small employers who responded to an NFIB poll on coping with regulation termed the problem either "very serious" or "somewhat serious." More than one-fourth said the extra paperwork deemed necessary was the primary hassle; 22 percent gave the top vote to difficulty understanding what was needed to comply. Nearly half–49 percent–considered the federal government the main culprit of their regulatory woes.
For many years, small business owners just took it for granted that no one in Washington, D.C., was listening to their concerns about the regulatory burden. Each year, some 150 new proposed rules fluttered down from the nation's capital. And each year, small firms collectively coughed up more than $100 million to comply with new rules.
Many of the greatest problems small businesses face are government-related, particularly something they call 'unreasonable government regulation.'
But last year, OMB launched an effort to do something about the regulatory burden on the manufacturing sector. In February, the office announced it would seek public nominations of rules and guidance documents that could be reformed to ease some of those regulations.
By December, the office collected and sent to major federal departments, such as Treasury, Agriculture, Environmental Protection, Labor, and Health and Human Services, nearly 200 regulations that were identified as candidates for reform by more than 40 industry and non-profit organizations. The Small Business Administration Office of Advocacy compiled a list of 27 rules considered small-business priorities. Of the rules submitted, some 76 were given the green light for consideration and action by the Bush Administration, which will give the federal agencies their marching orders to modernize the regulations within specific timetables.
John D. Graham, who heads the Office of Information and Regulatory Affairs within OMB, said these nominations would get priority action "to ease the excessive burden for the manufacturing industry while maintaining health, safety and environmental protections for the public."
What's more, the agency has released a draft report to Congress on the costs and benefits of federal rules enacted over the past decade. While this may not be cause for immediate celebration, the report could be an eye-opener for legislators who fail to consider the negative impact on small-business growth and job creation that ill-conceived regulations cause.
At the very least, OMB's action appears to be a clear indication that somebody in Washington, D.C., is listening to the concerns of American small businesses.
Faris is president of the National Federation of Independent Business. NFIB, the nation's largest small-business advocacy group, is based in Washington, D.C. NFIB can be reached at 1-800-
NFIB-NOW or online at www.nfib.org.
Was this article valuable?
Here are more articles you may enjoy.
From This Issue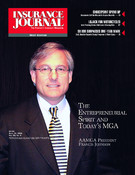 AAMGA Issue