Commercial Auto Preferred Admitted
Market Detail: Search Insurance Services (www.marketsearchinsurance.com) offers coverage for: contractors, retailers, wholesalers, and manufacturers. Ineligible risks include truckers — common carrier; truckers – contract carrier — livery. Liability, uninsured motorist and physical damage available.
Available limits: Minimum $50,000, minimum $1 million
Carrier: Unable to disclose, admitted
States: Calif. only
Contact: Customer service at 888-273-0165
Energy PAC – Admitted Program
Market Detail: Citadel Insurance Services' (www.citadelus.com) target market is the "on-shore" energy industry and its related operations, including "pure" incidental maritime employer's liability. The target market can be categorized into five target classes of business: contracting; consulting; manufacturing; transportation of associated product and waste; and small utilities providing local energy supply. Available lines include: general liability, products, pollution, site pollution, contractor pollution liability, professional liability, and follow form excess.
Available limits: Maximum $25 million
Carrier: Unable to disclose, admitted
States: All states
Contact: David Johnson at 877-247-4468 or e-mail: djohnson@citadelus.com
Builders' Risk & Renovation Residential Insurance
Market Detail: QuickIns (www.quickins.com) offers online, phone and email quoting for builders risk insurance, single family dwellings with ground up or major renovations. Targeted classes: single family homes valued $25,000 — $1 million for protection classes 1 through 10.
Available limits: As needed
Carrier: Unable to disclose, admitted
States: All states
Contact: Customer service at 877-275-9578
D&O/E&O for Insurance Agents & Insurance Companies
Market Detail: Quadrant Insurance Managers (www.quadrant-us.com) is a program administrator with exclusive products in E&O and management liability for insurance retailers, wholesalers, managing general agents (MGAs), program administrators, third-party administrators (TPAs), reinsurance intermediaries. Can also write insurance companies with $350 million or less in gross written premium.
Available limits: As needed
Carrier: Unable to disclose
States: All states
Contact: Karen Harris at 614-841-1425 or email: kharris@quadrant-us.com
Non-Emergency Medical Transport
Market Detail: IBI Insurance Brokers of Indiana (www.goibi.com) is a competitive outlet for non-emergency medical transport risks (ParaTransits) located in Indiana and Illinois. IBI can write single unit accounts, as well as fleet accounts. State required limits are offered, as well as the handling of the state/federal filings involved.
Available limits: Minimum $100,000, maximum $1.5 million
Carrier: Echelon Property & Casualty
States: Indiana
Contact: Brian Collins at 317-888-2593 or email: bcollins@goibi.com
Investigators
Market Detail: For more than 25 years The Mechanic Group (www.mechanicgroup.com) has specialized in delivering custom-built private security insurance programs to armed and unarmed security guard, private investigation, intelligence, electronic security, alarm installation and monitoring, background screening and security consulting firms. Coverages include: errors and omissions, commercial excess, commercial general liability, workers' comp, directors and officers, umbrella, liability, contractors license bonds, and employment practices liability insurance.
Available limits: As needed
Carrier: Unable to disclose, admitted and nonadmitted available
States: All states
Contact: Marc Katz at 800-214-0207 or email: mkatz@mechanicgroup.com
From This Issue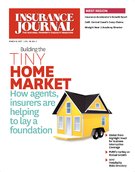 Hospitality Risks Directory; Homeowners & Auto; Business Interruption