Federal Emergency Management Agency (FEMA) on Thursday approved more than $5.5 million in additional federal funding for property acquisitions in Pennsylvania that will permanently remove flood-prone properties from harm's way. Additional projects continue to be approved as the application process moves ahead and program requirements are met.
An estimated $66 million is expected to be available to Pennsylvania for the property acquisition program as a result of Hurricane Irene and Tropical Storm Lee.
According to the FEMA announcement, the funds are being obligated through its Hazard Mitigation Grant Program (HMGP).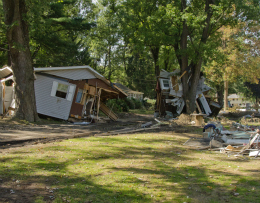 Sixty substantially damaged structures located within FEMA's Special Flood Hazard Areas in three Pennsylvania Counties will be torn down and demolished as a result of this program. Property owner participation in the program is voluntary with sponsorship through their local municipality.
A summary of the approved projects and the federal cost share so far includes:
• Columbia County: $2,838,070 (Bloomsburg – $1,259,318 – 11 properties; Fernville, Hemlock Township -$1,578,752 – 23 properties)
• Lycoming County: $1,325,419 (Lewis Township – 2 properties; Plunketts Creek Townships – 8 properties)
• Wyoming County: $1,368,921 (Exeter Township – 14 properties; Falls Townships- 2 properties)
HMGP funding is made available to encourage states and municipalities to take steps that will reduce the impact of future disasters. The funding represents 15 percent of the total federal cost of the response and recovery.
An application for a buyout is prepared by local officials with input from the community. The state receives and reviews applications to ensure they meet the acquisition requirements prior to submitting them to FEMA for approval. FEMA then reviews the applications to ensure they are eligible under the program, are environmentally sound, and are a cost-effective use of funds.
Once FEMA gives its approval, the acquisition process begins. The communities purchase the homes, the buildings are removed or destroyed, and the land is cleared. The site is then preserved as open space with no permanent structures in perpetuity.
The project is funded 75 percent by FEMA, with an additional 22 percent from the Commonwealth and the balance from other non-federal sources.
Was this article valuable?
Here are more articles you may enjoy.