Maine's top insurance regulator is highlighting a new mobile application that can help motorists take the guesswork out of auto accidents.
Maine Insurance Superintendent Eric Cioppa said this week that a new "WreckCheck" mobile application from the National Association of Insurance Commissioners provides guidance to people involved in auto accidents.
According to the National Highway Traffic Safety Administration, more than 5 million wrecks occur every year. However, a July 2012 survey from the NAIC revealed that many Americans do not know what steps to take after an accident.
The new WreckCheck mobile application from the NAIC outlines what to do immediately following an auto accident and takes users through a step-by-step process to create their own accident report.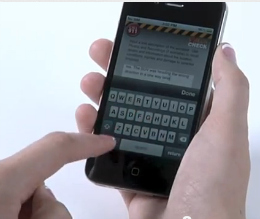 It also provides tips for staying calm, safe, and smart on the road, and makes it easy to capture photos and document the necessary information to file an insurance claim. Additionally, the app lets users e-mail a completed accident report directly to themselves and their insurance agents.
The app is free and available for both iPhone and Android smartphone users. WreckCheck can be accessed through the NAIC website (www.naic.org) and through iTunes and Android Apps.
Superintendent Cioppa said the recent NAIC survey revealed that consumers were unsure about auto accident best practices — such as when to call the police or what personal information to exchange with the other driver after an accident. Consumers generally need to share their names and correct vehicle insurance information, which should include the phone numbers of insurance providers.
Additionally, in Maine, someone involved in an accident may request to see the license of the other driver. Drivers should always be cautious about sharing more information. The NAIC survey found common misperceptions, including:
• Close to 20 percent of people believe the only reason to call the police after an accident is if someone is injured; however, filing a police report can help facilitate the insurance claims process. Maine law requires motorists to report an accident that results in bodily injury, death, or apparent property damage of $1,000 or more.
• One in six would allow the other driver to photograph their license as a convenient way to exchange information.
"Understanding what steps to take following an accident can make a difficult situation manageable and less stressful," Superintendent Cioppa commented. "Knowing what information to share, and with whom, will help to keep you safe and decrease some of the challenges of filing an insurance claim."
Drivers can also visit InsureUOnline.org for additional information about what to do following an auto accident. Also available on the site is a downloadable accident checklist. For all other insurance questions, consumers can contact the Bureau of Insurance for assistance.
Was this article valuable?
Here are more articles you may enjoy.