With dog bite claims accounting for over one-third of all homeowners insurance liability claim dollars in 2011, The Hanover Insurance Group is reminding dog owners to take preventative measures to protect themselves from the potentially serious financial consequences of aggressive canine behavior.
The cost of dog bite claims rose a whopping 53.4 percent from 2003 to 2011 according to the Insurance Information Institute.
Rising medical expenses as well as the growing size of legal settlements are among the factors driving the significant increase in the cost of claims. With this costly increase, it's more important than ever for homeowners to take the necessary steps to limit their financial exposure, The Hanover advises.
In many cases, dog owners are covered to an extent from canine-inflicted injuries with a homeowner's insurance policy. However, before adopting, rescuing or buying a dog, The Hanover recommends checking with the insurance agent to see if the breed the insured is planning to add to the household can be covered.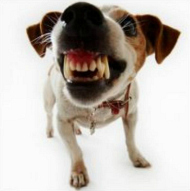 Some breeds pose a higher risk of injuring someone and insurers may exclude them from coverage. The company also recommends dog owners talk with their independent insurance agents to ensure they have adequate coverage.
"We believe that policyholders will benefit from having an independent agent review their insurance coverages to ensure they have adequate protection against the alarming increase in lawsuits over bites by family dogs," said Mark Desrochers, president of The Hanover's personal lines business.
Desrochers recommended dog owners should consider obtaining an umbrella policy to add additional liability coverage. Dog bites and attacks can cause serious damage and can result in very expensive jury awards and court settlements.
Umbrella policies not only provide an extra level of protection, but they are also relatively affordable. For example, increasing coverage with a $1 million-dollar personal umbrella policy can cost between $100 and $300 per year.
There are other steps a dog owner or prospective dog owner can take to prevent problems as well. To reduce the chances of a dog biting someone, the Insurance Information Institute recommends considering the following steps:
• Consult with a professional (e.g., veterinarian, animal behaviorist, or responsible breeder) to learn about suitable breeds of dogs for the insured's household and neighborhood.
• Spend time with a dog before buying or adopting it. Use caution when bringing a dog into a home with an infant or toddler. A dog with a history of aggression is inappropriate in a household with children.
• Be sensitive to cues that a child is fearful of or apprehensive about a dog. If a child is or seems fearful or apprehensive, delay acquiring a dog. Never leave infants or young children alone with any dog.
• Have the dog spayed or neutered. Studies show that dogs are three times more likely to bite if they are NOT neutered.
• Socialize the dog so it knows how to act with other people and animals.
• Teach children to refrain from disturbing a dog that is eating or sleeping.
• Play non-aggressive games with the dog, such as "go fetch." Playing aggressive games like "tug-of-war" can encourage inappropriate behavior.
• Avoid exposing the dog to new situations in which the homeowner may be unsure of its response.
• Never approach a strange dog and always avoid eye contact with a dog that appears threatening.
• Immediately seek professional advice from veterinarians, animal behaviorists, or responsible breeders if the dog develops aggressive or undesirable behaviors.
Owning a dog is a very rewarding, paw-sitive experience for millions of families. Taking some precautions to prevent aggressive actions, as well as consulting with an independent agent to ensure right coverages, will help to add more peace of mind on the homeowner's financial side, the insurer advises.
Was this article valuable?
Here are more articles you may enjoy.