A U.S. bankruptcy judge approved a $71.5 million settlement on Tuesday between former partners of Dewey & LeBoeuf and the estate of the law firm whose demise in May constituted the largest law-firm bankruptcy in U.S. history.
The settlement requires former Dewey partners to pay portions of their compensation, ranging between $5,000 and $3.5 million individually, in exchange for a release from potential lawsuits over the firm's debts. As of Tuesday, roughly 400 of 670 former Dewey partners had opted for the settlement.
U.S. Bankruptcy Judge Martin Glenn said the settlement is in the "best interest" of the Dewey estate and creditors because the deal ultimately prevents years of costly litigation between Dewey's estate and former partners. Glenn said the settlement "will lead to a quicker wind-down in Chapter 11, and – more importantly – a quicker and more certain distribution to creditors."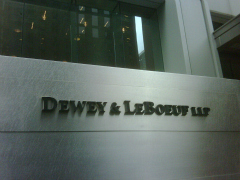 The decision concludes less than five months of back-and-forth negotiations between creditors, former Dewey partners and the defunct law firm's estate over the structure of the settlement. It also gives creditors who claim they are owed more than $500 million their first and largest recovery in the bankruptcy.
A group of retirees and former partners opposed the settlement, complaining the pact favored high earners. They took issue with the fact the deal was crafted by consultants who advised the firm on business matters before the it folded in May. They asked Judge Glenn to appoint an independent examiner to investigate the deal's fairness.
But Judge Glenn said on Tuesday he was satisfied with the Dewey wind-down team's work. He said the settlement was negotiated with partners independently "at arm's length" and noted that no evidence was brought to light that suggested any one party was favored over another. As such, he said an examiner did not need to be appointed to further investigate the settlement.
Some objectors had argued that the deal's architects did not properly investigate the value of particular claims by lawyers, questioning how much each settling partner actually sacrificed. They also said the wind-down team failed to establish accurately when Dewey became insolvent – a fact that could determine how far back the estate could go to claw back compensation from former partners.
Glenn accepted the Dewey wind-down team's estimate that Dewey became insolvent in 2012, but that insolvency would be more difficult to prove for 2011 and even harder for 2010. Glenn said finding the exact date of insolvency would be both difficult and expensive.
Joff Mitchell, Dewey's chief restructuring officer, said he hopes Judge Glenn's decision will prompt other Dewey partners who have not accepted the settlement to reconsider. Mitchell said he was prepared to waive a late penalty fee of 25 percent of their contribution for partners who decide to opt in.
The final plan for Dewey's Chapter 11 reorganization is scheduled to be filed in November, Mitchell said, months before a hearing that will reveal how the payments will be distributed to creditors.
Top contributors to the settlement include Berge Setrakian, a corporate lawyer now at DLA Piper, who pledged $3.5 million; and white-collar defense lawyer Ralph Ferrara, the firm's former vice chairman now with Proskauer Rose, who agreed to pay $3.36 million.
Morton Pierce, another former vice chairman of Dewey, now with White & Case, is slated to pay $1.02 million. Pierce, a prominent mergers and acquisitions lawyer, had been the chairman of Dewey Ballantine, which merged in 2007 with LeBoeuf, Lamb, Greene & MacRae in 2007.
Other top lawyers at Dewey participating in the settlement include Martin Bienenstock, Dewey's former bankruptcy head now also at Proskauer, who agreed to pay $643,000. Richard Shutran, Dewey's former corporate head who moved to O'Melveny & Myers, is slated to contribute $665,000.
Pierce declined to comment on the settlement. Setrakian, Ferrara, Bienenstock and Shutran were not immediately available for comment.
One partner left out of the settlement was Dewey's former chairman, Steven Davis, who the Manhattan District Attorney's office is investigating for possible financial improprieties, according to people familiar with the probe. Others who were not allowed to participate are former chief financial officer Joel Sanders and former executive director Stephen DiCarmine, who some former partners consider culpable in Dewey's collapse.
Ned Bassen, a lawyer representing Davis, DeCarmine and Sanders said he was satisfied with Glenn's ruling since the judge did not come to any conclusion on whether there is a basis for claims against his clients.
The settlement does not exempt partners from an estimated $60 million of so-called unfinished business claims, in which a trustee of the Dewey estate can seek to recover profits on legal business former partners took with them to other law firms.
David Friedman, a lawyer representing a committee of former partners who objected to the settlement, did not respond to a request for comment. Neither did Annette Jarvis, a lawyer representing a group of retirees who objected to the settlement.
Dewey once employed more than 1,000 lawyers in 26 offices worldwide, but in May it became the largest U.S. law firm to file for bankruptcy. Its demise has been largely attributed to compensation guarantees the firm made to a significant portion of its partners.
The case is In re Dewey & LeBoeuf, U.S. Bankruptcy Court, Southern District of New York, No. 12-12321.
Topics USA Legislation
Was this article valuable?
Here are more articles you may enjoy.