N.J. resident Kevin Kelly couldn't quite tell the damage Superstorm Sandy caused his 30-foot Wellcraft Sportfisher when he saw it last week. It was in the middle of Shrewsbury Avenue in Highlands, N.J., under a pile of about 30 boats entangled in power lines.
Then he got the bad news: American Star is a total loss after the top was ripped off its tower and the engine compartment was flooded.
"It's a big mess," said Kelly, 50, who owns a custom apparel company and lives in West Caldwell, N.J., but keeps his boat in Highlands. "A good way to look at this is there is really little you can do. You are going to pull your boat out of the water and pray for the best."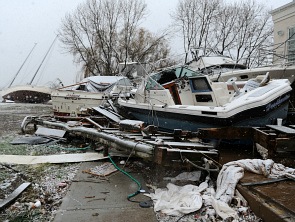 The Coast Guard, industry organizations and insurers are all still trying to get a handle on the extent of Sandy's damage.
But some in the recreation boating industry say boat destruction will be among the worst caused by a storm hitting the United States.
"The comment we've heard over and over is that, `We've never seen anything like it,' " Scott Croft, spokesman for BoatUS, the nation's largest group representing and providing services to recreational boat owners, told the Asbury Park Press. "It's safe to say Sandy is going to surpass any other storm."
BoatUS, which also provides boat insurance, has had Sandy-related damage claims spanning from Maryland to Maine and as far west Cleveland. But quantifying the damage is difficult in part because there are still areas impacted by Sandy that aren't accessible to insurers, Croft said.
The potential for boating damage was huge. New Jersey had more than 163,000 registered vessels as of the second quarter of this year, according to the Marine Trade Association of New Jersey, a nonprofit trade organization promoting the recreational marine industry.
A 2008 economic study from the trade association estimated about 25 percent of the state's registered boaters are in Ocean and Monmouth counties.
The U.S. Coast Guard is asking boat owners to contact the command center with information about missing or derelict boats so it can get better estimates on damage caused by Sandy, Coast Guard public information officer Petty Officer Steve Lehman said
"We can see it from the sky, but we know that's only a fraction of what we are looking at," he said.
The Coast Guard is also helping owners find their boats and putting them in contact with salvage companies. The Coast Guard is overseeing the process to ensure no fuel is spilled into the water, the salvage workers are safe and the boats themselves don't suffer further damage, Lehman said.
The boat damage caused by Sandy runs the gamut from scratches to total losses, officials said. Some boats that were on stands or trailers were lifted off by the storm surge and laid down gently when the water subsided. That left scratches on the boats outer finishes or in some cases propellers and motors.
That scale of damage can be fixed relatively easily, said Croft, the BoatUS spokesman.
"Quite a few boats will end up OK and will get their repairs done next winter," he said.
But other boats had more severe damage after the surge pushed them into larger objects like docks and buildings, crushing their hulls. Still more left in boat slips sank because the storm surge left them no place to go but down.
That was the case for four boats left in the water at Marina on the Bay in Highlands after the marina operators couldn't reach the boat owners before Sandy struck.
A mast poked out of the water off the end of one of the docks, the only thing still above water on a 45-foot sailboat. Yards away, another 20-foot fishing boat lay upside down and crushed on top of a dock.
Gusto, a 29-foot Catalina, fared better, but was still damaged by Sandy. The marina staff got the sailboat out of the water before it hit, but the storm surge estimated at 8 feet knocked the vessel off its stands.
Damage was visible to the outer finish on the keel and the hull as crews used a 65-ton crane to right the sailboat and about a dozen more vessels at the marina.
"It doesn't look like too much damage, but we don't know how much water got inside," said Tom Morford, the manager of Marina on the Bay.
In some cases, Sandy had help in damaging boats. Sandy carried Hans Kaspersetz's 26-foot fishing boat from his Sea Bright backyard about a mile away to a beach in the Navesink River.
The storm left the boat with little damage, but looters ripped out its global positioning system, its radio and fishing gear.
"I couldn't believe how they stripped the boat," Kaspersetz said. "They were just eating it alive."
Kelly, whose Wellcraft was destroyed by Sandy, said his loss was minor compared to others in the Highlands community.
"It was pretty much of shock and awe. Your personal property, while it means something to you, it really didn't matter," he said. "The suffering on people's faces as they salvage what's left of their homes, it really gives you perspective on what is important."
Copyright 2021 Associated Press. All rights reserved. This material may not be published, broadcast, rewritten or redistributed.
Topics Profit Loss
Was this article valuable?
Here are more articles you may enjoy.