New York Sen. Charles Schumer says New York expects to get tens of billions of dollars in federal money to cover damages from Superstorm Sandy.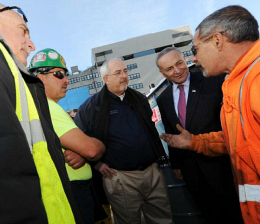 However, the Democrat told a news conference Sunday that it's not a done deal.

He says he and other New York officials are staging an intense lobbying effort in Washington to make sure the money is approved before year's end.

The supplemental federal funds for New York under discussion top $40 billion.

Schumer says the money should cover destroyed homes, transit systems, hospitals and small businesses.

The senator says more than 300,000 homes had "serious damage."
Copyright 2021 Associated Press. All rights reserved. This material may not be published, broadcast, rewritten or redistributed.
Topics New York
Was this article valuable?
Here are more articles you may enjoy.