The National Insurance Crime Bureau(NICB) says progress is being made in identifying and removing thousands of vehicles damaged beyond repair by Superstorm Sandy.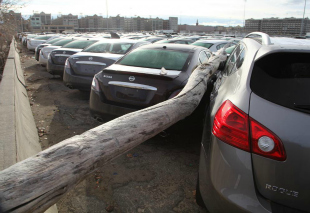 The estimate of 230,000 insurance claims for vehicle damage in the areas affected by Sandy remains unchanged at this time.

Many of those vehicles were flooded and are being towed to holding areas where they will be loaded on car haulers and taken to facilities to be crushed.

The National Insurance Crime Bureau said that on Dec. 5, NICB officials visited holding areas in Brooklyn, N.Y., where more than 7,000 new vehicles awaiting delivery to dealerships had been parked when Sandy flooded the area with more than three feet of water.
All but 800 cars had been removed. The vehicles suffered extensive damage as the wind and water shoved them into each other and flooded their electronic systems, damaging them beyond repair.
"New York City Police and the other law enforcement agencies around the area were understandably focusing on other emergencies and disaster efforts initially," said NICB New York Region Operations Director Thomas Lohmann.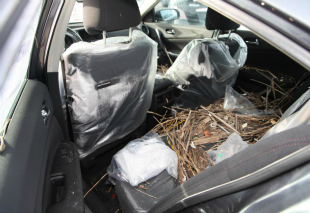 "Now they have begun to address the issue of dealing with thousands of flooded and damaged vehicles, and they are doing an outstanding job of getting these vehicles towed to holding areas where they can be identified and accounted for prior to being scrapped," he said.
"They are also going after towing companies that have taken cars off the street without permission, and are submitting outrageous towing and storage bills to insurance companies. Some may be holding the vehicles in an attempt to increase storage fees, or actually claim title to the vehicle after it sits at their facility for an extended time."
The NICB said its member insurance companies have provided extra resources to tow damaged vehicles and dispose of them, and are working with NICB to ensure all of the Vehicle Identification Numbers (VINs) of these vehicles are reported to the National Motor Vehicle Title Information System (NMVTIS) at www.vehiclehistory.gov.
The NICB said its efforts are focused on making sure these damaged vehicles are identified. Using VINCheckSM, consumers can enter the VIN of a vehicle they are interested in purchasing to see if it has ever been declared as salvage.
VINCheck, available free of charge at www.nicb.org, provides access to information from insurance companies representing nearly 90 percent of the insured, private passenger market. It was created in the aftermath of Hurricane Katrina.
"Despite everyone's best efforts, there will be cases where damaged vehicles are cleaned up, dried out and sold by unscrupulous dealers or individuals who know how to beat the system," said NICB CEO Joe Wehrle.
"No one should be driving a car that's been sitting in four feet of water. It's unsafe. But people who will sell you a car like that aren't worried about your safety," said Wehrle.
The NICB is also warning victims of Sandy to be on the lookout for contractors who may try to take advantage of the situation by offering to do repairs in return for an advance payment or insurance check.
Unscrupulous contractors may take the money and run, inflicting more financial damage and suffering on the victim, the NICB warned.
Anyone with information concerning vehicle theft and insurance fraud can report it anonymously by calling toll-free 1-800-TEL-NICB (1-800-835-6422), texting keyword "fraud" to TIP411 (847411) or by visiting our website at www.nicb.org. Or, iPhone or iPad users can download the NICB Fraud Tips app to make it easy to quickly send a tip and get a response.
Was this article valuable?
Here are more articles you may enjoy.