Hoboken, N.J., Mayor Dawn Zimmer told a U.S. Senate committee Hurricane Sandy caused $100 million in damages to the square-mile city across the Hudson River from Manhattan.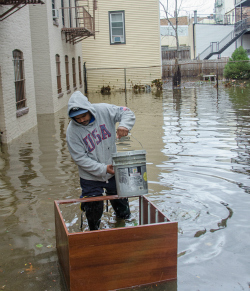 Zimmer testified before the Senate Committee on Small Business and Entrepreneurship on Dec. 13, where she urged lawmakers to fix rules preventing some from collecting on flood insurance claims.

The issue is properties located below street level.

People who live or have businesses in flood zones are required to carry flood insurance. But if the dwelling is even one or two steps below street level, the National Flood Insurance Program considers it a basement and FEMA limits claims to items like boilers and electrical panels.

Zimmer says the rules don't reflect urban realities.

She appealed to Congress to fix the "flood insurance trap."
Copyright 2020 Associated Press. All rights reserved. This material may not be published, broadcast, rewritten or redistributed.
Was this article valuable?
Here are more articles you may enjoy.