A deadly derailment on a curve in Metro-North Railroad's Hudson Line rekindled safety concerns and promised to snarl today's commute for thousands of riders on one of New York's major mass-transit arteries.
The crash yesterday beside the Harlem River, where it joins the Hudson just north of Manhattan, caused the first passenger fatalities in Metro-North's 30-year history, the railroad said. Two women and two men died, and 63 were hurt.
Metro-North's third crash in a year brought new attention to passenger safety on the railroad, which carries an average of 280,000 riders each weekday, second only to the Long Island Rail Road, according to the American Public Transportation Association.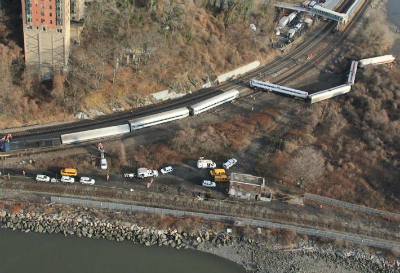 Transportation specialists said potential causes of the wreck, which could hamper service for days, ranged from excessive speed to slippery, wet leaves on the rails.
"We realize that this is a very important railway for commuters in the New York area," U.S. National Transportation Safety Board member Earl Weener said yesterday at a briefing. "Our mission is to understand not just what happened, but how it happened, with the intent to keep it from happening again."
Not Driving
Service was suspended in both directions between Croton-Harmon station and Grand Central Terminal. The Metropolitan Transportation Authority, which operates the railroad, said shuttle buses would provide a bridge between the Yonkers station and the 242nd Street station of the 1 local subway. Amtrak's Empire Service, whose tracks parallel the Hudson Line, remained in operation.
Judith Dibben, 68, a paralegal at a Manhattan law firm, said she typically rides a 6:05 a.m. train from Hastings-on- Hudson, about 20 miles from Grand Central Terminal in midtown Manhattan, and didn't need to alter her schedule too much to take the bus-shuttle to the subway.
"I was apprehensive about it, but so far it's OK," she said today while riding the No. 1 subway train downtown from 242nd Street in the Bronx. "It's better than other alternatives, like driving."
Track Repairs
The Metropolitan Transportation Authority, which operates the Metro-North line, has righted the train's locomotive engine and still needs to place the remaining six cars upright and return them to the track. Several hundred feet of track must be repaired, said Aaron Donovan, an MTA spokesman.
"We don't have an estimate for how long it may take," Donovan said in a telephone interview. "NTSB has control of the site and nothing moves until they give us the go-ahead."
The four dead were identified as Donna L. Smith, a 54-year- old paralegal from Newburgh, New York; James G. Lovell, 58, a media consultant and father of three teenage boys from Cold Spring, New York; James M. Ferrari, 59, of Montrose, New York; and Kisook Ahn, 35, of Queens.
The NTSB, which is investigating two other Metro-North accidents earlier this year, will be on site for seven to 10 days for this probe, Weener said. Investigators will look at the track, signals, train equipment, brakes, personnel and event- data recorders for clues.
In September and October, service on the railroad's New Haven line was disrupted for almost two weeks when a Consolidated Edison Inc. power failure interrupted service for 130,000 passengers daily in Connecticut and suburban Westchester County in New York. That followed a May 17 collision in Connecticut between two trains going in opposite directions. The incident involved 700 passengers, all of whom survived.
Accident Investigation
It's too early to tell whether there are similarities between the accidents, said Nicole Gelinas, a senior fellow at the Manhattan Institute for Policy Research who studies the regional mass-transit system.
"The other incidents were obviously not good signs, whether about track conditions or other issues," Gelinas said. "Trains should not derail."
The southbound express train from Poughkeepsie, about 80 miles (130 kilometers) north of New York City, departed at 5:54 a.m., bound for Grand Central Terminal. About 7:20 a.m., the railcars being pushed by a diesel locomotive derailed steps from the Spuyten Duyvil station in the Bronx.
About 120 passengers were aboard, tossed about as several of the red and silver cars flipped onto their sides with the lead car coming to rest near the water's edge.
Curved Track
The crash occurred on a curve of almost 90 degrees, which was more likely to blame than lack of infrastructure spending by the MTA, said Peter Derrick, a former MTA planner and assistant director who's now a visiting scholar at New York University's Rudin Center for Transportation Policy and Management.
"There's always questions about infrastructure, but Metro- North has actually done a good job, at least in the New York portion of the region," of maintaining the tracks, according to Derrick, who said he could see the accident scene from his home. "It's just that there's a sharp curve there and the train was probably going too fast."
A Spanish train accident in July that killed about 80 people also may have been related to speeding on a curve, government officials there have said.
The speed limit on the New York curve is 30 miles (48 kilometers) per hour, compared with 70 mph before the curve, said Marjorie Anders, an MTA spokeswoman. The curve near Spuyten Duyvil has proved prickly in the past. A CSX Corp. freight train hauling garbage derailed there in July.
Wet Leaves
For yesterday's crash, officials will examine the possible role "slip-slide" — which the MTA describes as a gelatinous, slippery "slime" of crushed leaves that can cause the wheels to slide along the rails — may have played as well as the possibility of defective rails, Gelinas said.
Metro-North workers were ready to clear cars from the tracks with cranes and other heavy equipment through the night following NTSB approval, the MTA said.
Kelon McFarlane of Poughkeepsie, a 30-year-old telecommunications student at New York City College of Technology en route to visit his aunt in Brooklyn, was in the fourth car of the train as it began to make its turn.
"All of a sudden I felt it picked up," and the train leaned over more, McFarlane, 30, said in an interview. "I was thrown from one side to the next."
McFarlane grabbed the overhead rack as the train tipped over. The car skidded on its side, pounding and scraping the ground, he said. When it stopped, he and about three other passengers climbed out the exit.
'In Disbelief'
"It was chaotic," he said. "People were screaming. Everybody was in disbelief."
McFarlane was taken to a hospital for treatment of cuts and bruises on his hands, upper left thigh and right knee. Three of the four people who died were thrown from the train and 11 of the injured were critically hurt, MTA officials said.
The railcars in the crash were made by Montreal-based Bombardier Inc., according to the MTA. Bombardier supplied Amtrak's Acela fleet that serves the U.S. Northeast between Washington and Boston.
Maryanne Roberts, a spokeswoman for Bombardier, said in an e-mail yesterday that the company had "no specifics about the derailment and no information about the cause."
Senators Richard Blumenthal, a Connecticut Democrat, and Chuck Schumer, a New York Democrat, called in e-mailed statements for a thorough, independent investigation.
Biggest Transit
The MTA, the biggest U.S. transit agency, employs 66,000 workers, has a $13 billion budget and carries 8.5 million riders a day on subways, buses and commuter railroads. It's been plagued by deficits for years, which officials have battled with biennial fare and toll increases alongside a cost-cutting plan that began in 2010 and is set to pare more than $1 billion from the operating budget by 2017. Last year, Hurricane Sandy floodwaters caused about $5 billion in damage to its system.
The agency's capital budget provides funding for commuter rail track maintenance. The five-year, $29 billion budget ending next year includes $1.5 billion for Metro-North, according to budget documents.
In July, Gelinas wrote in the New York Post that the MTA was "reaching the limits of what it can borrow" and lacked funding for its next capital budget beginning 2015, including federal, state and city sources. The city's annual contribution for capital spending, about $140 million a year, has fallen since the 1990s, she said.
Angel Gonzalez, who lives near the crash site, said he's relieved the train wasn't more crowded. "We are thanking God it was a weekend and not a weekday when people are going to work," he said in an interview.
With assistance from Frederic Tomesco in Montreal, Michelle Kaske, Callie Bost, Henry Goldman and Laura Marcinek in New York and Michael B. Marois in Sacramento. Editors: Pete Young, Justin Blum
Copyright 2021 Bloomberg.
Was this article valuable?
Here are more articles you may enjoy.