Chubb, in collaboration with the Pennsylvania Historical and Museum Commission (PHMC), has dedicated a Pennsylvania historical marker to the Insurance Company of North America (INA), Chubb's oldest subsidiary company.
The marker was unveiled during a ceremony at Chubb's office in Philadelphia, Penn., and commemorates INA's 225-year history.
"This milestone is important to the Philadelphia region, as it underscores the caliber of our businesses and output from our area," said Councilman Mark Squilla, District One, Philadelphia, during the dedication ceremony. "It also serves as recognition of INA's positive influence on the community, and across the nation, and even stretching into the international marketplace."
INA has operated in the Philadelphia area uninterrupted since 1792 and served as a cornerstone of Philadelphia's "Insurance Row," which was once the acknowledged center of the U.S. insurance industry. INA has been a subsidiary of Chubb (formerly ACE Group) since 1999.
INA has a storied history in the North American insurance industry. Some firsts include introducing:
the first stock insurance organization in the United States
the first fire insurance company to insure contents of a building from fire
the first insurance company to appoint a network of agents to represent it on the U.S. frontier.
"Today is a very special milestone for our company, and we're proud of our company's heritage and legacy here in Philadelphia," said Robert Poliseno, Mid-Atlantic regional executive officer at Chubb in a company press release. "Additionally, Philadelphia continues to be a vibrant insurance marketplace and an important hub for our North American operations. As a global insurer, we operate locally to serve our distribution partners and customers."
According to the PHMC's nominating criteria, INA "had a significant impact on its times, and has statewide and/or national historical significance." After its dedication, the marker will be owned and maintained by the PHMC.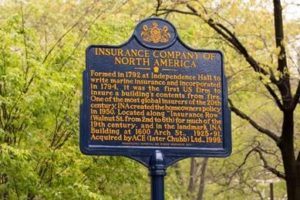 "Each PHMC marker establishes an important link to the past," said Nancy Moses, PHMC Chair, in the press release. "I hope that this marker provides encouragement for further study and discussion as we celebrate the important role INA played in establishing the insurance industry when the United States of America was still in its infancy. Additionally, the marker recognizes INA's numerous marketplace innovations over its long history,"
City Representative Sheila Hess also delivered a Mayoral Citation on behalf of Mayor Jim Kenney.
The ceremony coincided with the 2017 Risk Management Society (RIMS) annual conference, the insurance industry's premier gathering to discuss influential themes and trends affecting the industry. The RIMS conference was held at the Philadelphia Convention Center.
Source: Chubb
Was this article valuable?
Here are more articles you may enjoy.