When Thomas Babb launched his insurance agency – Thomas Babb Insurance Agency – in an 11-story building in downtown Worcester, Mass., in 1917, he also launched a legacy that would span a century of growth and four generations of leadership.
Babb later sold the agency to Harold Knight, who rebranded it to the Harold Knight Agency. In 1955 when Bob Dik came on board, the agency once again rebranded to become the Knight-Dik Insurance Agency and continued its growth through the acquisition of small agencies in central Massachussetts.
This year, Knight-Dik Insurance is celebrating its 100-year anniversary since its 1917 inception on Main Street in Worcester. Although the agency has had multiple addresses since its beginning, all of them have remained on Main Street.
The agency's secret to success and longevity, however, is as much about stability as it is about change, Ross Dik, Bob Dik's son, Harold Knight's grandson and current agency President and CEO, told Insurance Journal.
"We're constantly on the lookout for the next thing," he said.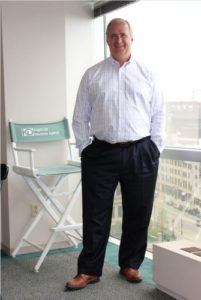 This strategy has proven particularly effective for the company in terms of technology. Indeed, when Ross officially joined the business in 1981, he instantly began working on moving the agency technologically forward. He introduced mainframe computers to the office at a cost of $78,000, which included creating a designated air-conditioned room in which to keep them.
"The first day, the system crashed because information was copying itself and there wasn't enough storage space," Ross recalled in a company press release. "Trust me; it was not a highlight of my career. But eventually we got all the bugs worked out and it helped the company grow immensely."
Now, he says the agency is trying to keep technology and any advantages that come with it at the forefront of its business strategy.
"It's only been probably about seven years or so that it feels like [technology] is all coming together and paying dividends, both on the efficiency and customer level," he said. "That's the exciting thing to me. I think the first long phase of technology was as much a burden to us as it was an advantage, so it's fun to see that it really is paying off and helping everyday."
This focus on innovation is nothing new to Knight-Dik Insurance, however. In the early-1970s, Knight-Dik became the first agency in Massachusetts to file a Mass Merchandising account. This was a discounted insurance program for employees of State Mutual Insurance Company, and similar accounts would be set up for Paul Revere Insurance and Clark University.
"Massachusetts approved that type of discounted plan for employers, and we filed the first plan in the state and went on to do a lot of that," Ross said. "We ended up really getting involved in employer-based insurance marketing, and we grew heavily in that area for a number of years."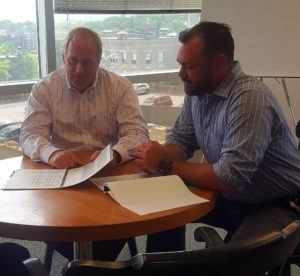 In 2011, Ross' son, Christopher Dik, became the fourth generation to be involved in moving the agency forward. In his first year, the agency focused on creating a new branded division called Workers' Comp Results, which focuses on solving the many workers' compensation issues affecting employers, Ross said.
"The first nine months was tough," Ross added in the release. "But [Christopher] stuck it out, found out that he had a knack when it came to workers' compensation insurance, and has been on fire ever since."
Indeed, innovation doesn't come without challenges, but Ross explained the agency is committed to working through any difficulties in order to continue growing and moving forward.
"There is an awful lot of pressure with the different ways clients can get insurance now," he said. "They can get it online, from directs, from 800 numbers or from local agents."
But the biggest challenge Ross sees with technology today is the ability to continue to connect with clients as face-to-face communication has lessened.
"Our communications with clients went from faxes to emails to texts," he said. "Very few people come to our office anymore, and we estimate probably about 90% of our clients will never visit our office. I think the biggest wake-up call for us as we saw technology evolve was that we need to be far more proactive in terms of keeping the communication lines open and connecting deeper with the client than just through stale mailings and faceless communication. The easy part when clients had to come in to the office was that it allowed us to have a relationship and connect. When you take that out of the equation, then we had to figure out valued reasons to connect to clients."
Knight-Dik is currently using a software program called Guided Conversations that allows its customers to interact with their insurance program on their own terms and ask insurance questions at any time of the day to get immediate and accurate answers.
"[Guided Conversations] has been very well-received and allows the customer to do the work on their own time, but still allows them to contact us at any time," Ross said. "More and more customers want to take control of the process and have more involvement, and Guided Conversations allows them to do that."
Knight-Dik is working to bolster the program in the future through an automated program to make its website more efficient as a source of information and a more interactive part of how the agency does business. The automated program serves to integrate client information so the agency can search, identify, review and communicate in terms of what coverage clients have and what coverage they may need, Ross said.
"Instead of sending general communications out that may or may not apply, we can send communications out that are really specific to each client and change client-to-client," he added.
The agency is working with a firm that has the capability of extracting data from Knight-Dik's management system and then communicating with clients on a one-on-one basis. Knight-Dik is piloting the program in 2017 and hopes to be able to use the technology with all clients by 2018, Ross stated.
"I think technology has allowed us to have a much greater geographic footprint as well, because there's not this pressure on having immediate face-to-face access," he said. "More and more people are comfortable not having to have an immediate local agent as their representative, so throughout the state, we feel we can service our clients very easily. That's what we want to be doing – using technology to help better serve clients."
Although it has worked hard to take advantage of advancements in technology and embrace innovation, the biggest success strategy for Knight-Dik Insurance has not only been its ability to adapt to change, but to retain the stability of its legacy, Ross said.
"We're really pleased that we've continued to grow at a double-digit pace, which is a really valued number in our industry at this point," he stated. "I think the biggest success factor for us is that we've had stability through long-standing leadership, long-standing employees, and subsequently, long-standing customers."
Was this article valuable?
Here are more articles you may enjoy.