New Hampshire Insurance Commissioner Roger Sevigny is planning to retire this summer after 16 years with the New Hampshire Insurance Department. With his current term ending on June 11, he told Insurance Journal his advice for his successor is based on a strategy he has seen work well during his time in office.
"Do what makes sense and regulate in a way that you would want to be regulated if you were on the other side," he said.
His retirement comes after more than a decade of navigating both challenges and opportunities within the New Hampshire Insurance Department, all while keeping pace with a changing insurance industry. He cited assisting with guiding the state through the financial crisis of 2008 and 2009 and the implementation of the Affordable Care Act as two of his biggest accomplishments while in office.
"[Protecting consumers] really starts with being able to appropriately regulate the industry," Sevigny said. "You have to be really careful as a regulator that you're not overly heavy-handed, but at the same time, you can't let things go that could do a consumer harm."
Be a good leader, be a good listener and do what makes sense.
Accomplishments don't typically come without challenges though, and for Sevigny, one ongoing challenge he sees in New Hampshire is achieving market stability in the health insurance market, particularly the individual market.
"Thankfully in New Hampshire, by working closely with the carriers and by being very, very close to the situation, we were able to continue to have a market for all of our consumers that wanted health insurance," he said. "That didn't happen all over the country…not that we weren't challenged. We were."
He added that New Hampshire's close association in working with various carriers and being flexible when they file their rates served the consumer well, however, by continuing to provide a market in which consumers could participate.
Despite any past or present challenges, Sevigny said that much of his accomplishments in office boil down to his ongoing efforts to be a good financial regulator and protect consumers.
"If I did nothing else, if I could be a really good financial regulator – in other words, make sure that the carriers that are doing business are solvent and remain solvent – then I've done a good job at protecting consumers," he said.
New Hampshire Governor Chris Sununu praised Sevigny for a job well done in a statement announcing the Commissioner's pending retirement.
"We will have big shoes to fill with Roger's absence," Sununu said in prepared remarks.
Although Sevigny said it may be both a difficulty and an opportunity for a successor to continue the initiatives that the New Hampshire Insurance Department has begun, he advised that being a good leader at the state level starts with being a good listener.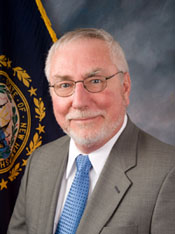 "I really believe that you make much better decisions when you have healthy debate from all that are contributing to the debate," he said. "Be a good leader, be a good listener and do what makes sense."
Prior to his 16 years working as a regulator in the state of New Hampshire, Sevigny spent 30 years in the military both in active duty and reserve time, retiring at the rank of Colonel, and more than 30 years working for Travelers Insurance and Citigroup. He is a National Association of Insurance Commissioners (NAIC) past president and member of the NAIC's Executive (EX) Committee. Sevigny is also president of the National Insurance Producer Registry (NIPR) and chair of the Producer Licensing (EX) Task Force.
After a long career, he said "the stars aligned" for him to retire.
"I had to decide whether I was going to ask the Governor to reappoint me or whether I was going to be looking to do something different, and the decision I made was that it's time for the next chapter," Sevigny said.
Check back for additional details on New Hampshire Insurance Commissioner Roger Sevigny's interview with Insurance Journal.
Was this article valuable?
Here are more articles you may enjoy.