Pennsylvania Governor Tom Wolf has vetoed a bill that would have expanded liability protection against COVID-19-related lawsuits for various businesses and entities in the state as they continue to grapple with coronavirus restrictions.
House Bill 1737 was initially introduced by members of the Pennsylvania House of Representatives and later amended by the Pennsylvania Senate. A press release issued by Wolf's office said the bill proposed "overly broad immunity protections from civil liability due to the pandemic."
The bill passed both the state House and Senate on November 20 before reaching Wolf's desk and being vetoed by the governor Monday.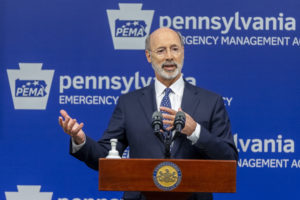 "Shielding entities from liability in such a broad fashion as provided under this bill invites the potential for carelessness and a disregard for public safety," Wolf said in his veto statement.
The veto came as a disappointment to supporters of the bill, including Insurance Agents & Brokers (IA&B), a professional trade association for independent insurance agents which previously penned a letter expressing support and rallied lobbying efforts around the legislation.
"It's been a rough year for small businesses," IA&B President and CEO Jason Ernest told Insurance Journal. "Our member insurance agents have seen first-hand how small businesses have really struggled with either 1. having to close down or 2. having to operate under the current restrictions that are in place. So we felt that this bill really gave some support at a time when it was most needed to small businesses."
Ernest said IA&B was "extremely disappointed" when the veto was announced.
"We felt that the restrictions that are currently in place by the Commonwealth and by the administration have really handcuffed these businesses, and some sort of limited liability was just essential," he said. "When that veto came down, it truly was a kick to the stomach for businesses that have already had a tough year."
Gordon Denlinger, Pennsylvania state director for small business advocacy organization The National Federation of Independent Business' (NFIB), said in a statement that one COVID-19-related lawsuit could be the final straw for an already struggling small business.
"That's because mounting a legal defense can push a small business that is already struggling financially into bankruptcy," he said.
In his veto message, however, Wolf stated that some liability protections are already in place. He pointed to his May 6 executive order, in which protections against liability were provided for good faith actions taken by health care practitioners in response to calls to supplement the health care provider workforce during the COVID-19 pandemic.
The executive order granted liability immunity to licensed health care practitioners in Pennsylvania providing COVID-19-related medical services. Immunity does not extend to actions that constitute a crime, gross negligence, fraud, malice or other willful misconduct.
The order also extended this immunity to medical professionals in Pennsylvania providing services in a health care or nursing facility, personal care home, assisted living facility or any alternate care site, community-based testing site or non-congregate care facility used to respond to the COVID-19 emergency. It affirmed immunity for any person or organization allowing real estate to be used for emergency services without compensation in the case of death, injury or loss or damage to the property of anyone on the premises for the purpose of those emergency services.
In response to recent rising case counts in Pennsylvania, Wolf announced new mitigation measures on November 23. The measures also include civil liability protection for all businesses that maintain in-person operations and are open to the public to engage in essential emergency services, as long as they enforce Secretary of Health Dr. Rachel Levine's masking order.
However, proponents of House Bill 1737 said more needs to be done to protect entities suffering during the COVID-19 pandemic, particularly small businesses.
"The Governor's recent Executive Order might mention liability protections, but the language falls short of what is needed and many businesses and organizations are still trying to determine exactly what protections the order does afford," said Gene Barr, president and CEO of business advocacy organization The Pennsylvania Chamber of Business and Industry, in a statement.
Ernest said that he believes this is not the end of the road for legislation like this in Pennsylvania.
"I do believe lawmakers and stakeholders will continue to work on passing similar legislation," he said. "It is critical for the livelihood of small businesses to do so. This is a very tough environment they are trying to work in, and they need all the help they can get. I'm afraid inaction is going to result in a lot of business closing their doors for good."
That said, Wolf maintained in his veto statement that the liability protections offered by House Bill 1737 were simply too broad, inviting even businesses that are not in compliance with COVID-19 health and safety regulations to receive civil liability protection.
"Providing immunity for a business that does not rigorously comply with public health orders does not ensure the safety of the public, its employees and is not in the public interest," he said. "At a time when the COVID-19 virus is spreading rapidly, we need to be taking measures to ensure compliance with public health orders and improve safety practices. We should not be providing protection for noncompliance or carelessness."
Was this article valuable?
Here are more articles you may enjoy.