After spending 15-plus years in and around the insurance industry, Matt Peterman and Tom Volk had first-hand experience of the industry's systemic problems with fraud and rising premiums. They decided to do something about it, developing what they think will be a revolutionary model for insurance: social proofing on a blockchain-harnessed platform.
(See related article in which Peterman and Volk describe the concept behind distributed social proof insurance).
Peterman, who is co-founder and CEO of InsurePal, also works for a fraud detection company, Salviol Global Analytics, which is headquartered in Reading, England. In this work, he has seen "outrageous" fraudulent claims that create huge costs for the insurance industry. With Peterman's help, the company acquired several blue chip insurance clients, including Allianz, Fosun and Groupama. Prior to this role, he worked with different private equity companies, investing and helping them grow.
InsurePal co-founder Volk, who speaks five languages and has a master's degree in physics from the University of Ljubljana, Slovenia, has had previous experience starting a new company.
In 1989, he founded and currently is co-managing Adacta Group, a provider of insurance solutions in the EMEA region. Adacta has developed a proprietary insurance system, AdInsure, which is used by European and Russian insurers. Under Volk's leadership, the company has €25 million (US$31 million) in annual revenue and has grown a network of more than 450 professionals in seven different countries.
It was their experiences with the insurance industry that led them to try to find a better way of doing business.
30-Member Team
Peterman and Volk, who are both Slovenian, said InsurePal has a team of 30 members, comprised of experienced insurance professionals and blockchain, IT and communications experts.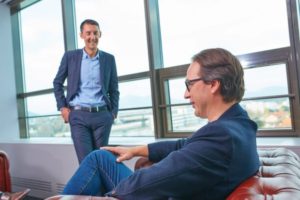 In an interview with Carrier Management, they noted that one of the team's senior advisers is Euan King, the former CEO of 1insure, a $200 million global provider of software-led solutions for policy management, claims management and analytics. (The company is owned by The Carlyle Group.) Prior to this, King was instrumental in the successful expansion of Innovation Group into the U.S. market.
Both men laughed when asked if they were technology geeks in their 20s. While both admit they are on the "right side" of 50, they stressed that innovation isn't solely the purview of younger people who are fresh out of university.
Insurtech innovation is reliant on identifying a problem and then tapping the technology that can solve that problem, they said. But an insider understanding of the industry is vital to any successful insurtech company, they emphasized.
Of course, they freely admit that many of the IT and blockchain technicians who work on the InsurePal team are on the "right side" of 30!
This article first appeared in Insurance Journal's sister publication, Carrier Management, as a sidebar to the main article on distributed social proof insurance.
Topics Insurtech
Was this article valuable?
Here are more articles you may enjoy.