Swimmers at the Lusshardtsee lake about 60 miles south of Frankfurt in Germany thought they'd found respite from the blazing sun one Sunday afternoon last summer.
Unknown to them, however, sweltering ground temperatures were forcing a column of moist air upwards to feed a weather phenomena scientists call a convective storm. Just before 4 p.m. on July 15, thunder, lighting bolts and torrential rain hit and sent startled bathers dashing for shore.
"The storm was obviously so surprising that some bathers had difficulty getting out of the water," said Fabian Geier, a spokesman for the local fire brigade, which deployed to the site some of the 55 emergency services personnel and an aerial search-and-rescue drone.
Rising temperatures attributed to a broader warming of the planet are making convective storms like this one more common across southern Germany. That's increasing costs for insurers, which shouldered a record $160 billion in climate-related damages last year worldwide and are noticing similar trends in other places, especially the U.S. Midwest.
The trend marks a shift for Germany, which generally has more mild summer weather and smaller swings in the temperature than the U.S. In the future, it will have to cope with what's essentially more powerful thunderstorms, bringing with them the increased probability of hail, tornadoes and flash flooding that comes with torrential rains.
"You can have hundreds of strong thunderstorms develop over one to three days," Ernst Rauch, chief climatologist at reinsurer Munich Re, said in an interview. "The most severe storms are becoming more frequent."
Convective storms gain their power when the air is warm and moist, with increases in either of those variables multiplying the potential impact. Higher temperatures boost the amount of moist air blowing in from the Atlantic Ocean across France and, more locally, the amount of water evaporating from plants, rivers and lakes.
The storms tearing through Germany reflect a similar trend in the U.S. Abnormally warm water in the eastern Pacific, along with a weak El Nino along the equator, have flung a train of storms across the American Midwest, flooding agricultural land and leaving barges struggling to make progress up the swollen Mississippi and other rivers.
"Moisture is in essence the energy that feeds the storm," said Michael Kunz, professor of meteorology and storm science at the Karlsruhe Institute of Technology, which is located near the Lusshardtsee lake. "There's an increasing risk that high-powered tornadoes will occur."
Increasingly turbulent weather in Germany's south is just another sign of Europe's largest economy getting ruffled by climate change. A string of summer droughts wrought havoc on crops last summer. A protracted dry spell also depressed water levels in the Rhine River, making it impassable at times to barges carrying materials to industrial plants throughout the region. That contributed to a slowing of German growth in the final quarter of 2018.
While no one was killed in the Lusshardtsee storm, insurance companies, climatologists and businesses are concerned such events threaten life, property and infrastructure in the advanced manufacturing heartlands in Germany's south. These once-rare occurrences can bring down power lines or close major airports, causing eye-watering damage to property, weather experts and insurers say.
The shifting weather patterns are also rippling through public consciousness in Germany, where the "Fridays for Future" youth strikes for climate action are the most numerous on the continent. A rise in powerful storms is adding to pressure on politicians to take action against the country's biggest corporate greenhouse-gas polluters, showing changing weather isn't something businesses can easily ignore.
The storms are hard to forecast, making it difficult to design countermeasures to protect people and property. A July 2013 convective hailstorm south of Stuttgart, home to Mercedes-Benz parent company Daimler AG, caused about 3.6 billion euros ($3.6 billion) of damage, with about 1.5 billion euros incurred in a single half-hour span, according to insurance data.
While scientists say it's impossible to link individual weather events to climate change, the probability of extreme weather events is increasing along with rises in temperature, according to Gudrun Muehlbacher, senior climatologist at Germany's DWD federal weather service.
Businesses in southern Germany are making preparations to protect operations from unexpected convective storms. Daimler has for some time kept automobiles in hail-proof hangers. It's funding research to gain a better understanding of how businesses can defend property from hail, a company spokesman said.
The DWD weather bureau is investing in technology to better predict the storms. Deutsche Bahn, the state railway operator that hauls much of Switzerland's high-valued manufacturing goods across southern Germany, said it has 1,000 staff working on measures to mitigate storm damage following a dramatic increase in disruption over the past three years.
"Increasingly, heavy storms are causing millions in damage to tracks and facilities, as well as train cancellations or delays," a Deutsche Bahn official said.
In April, a high-powered storm ripped through the showgrounds of Germany's horticultural society in Heilbronn, sending visitors running for cover. While security staff monitor the weather for potential risk to visitors, the storm broke unexpectedly.
Three people were unable to outrun flying sun shades and were taken to hospital with minor injuries, a spokesman for the event said, adding, "We usually get at least 20 minutes warning."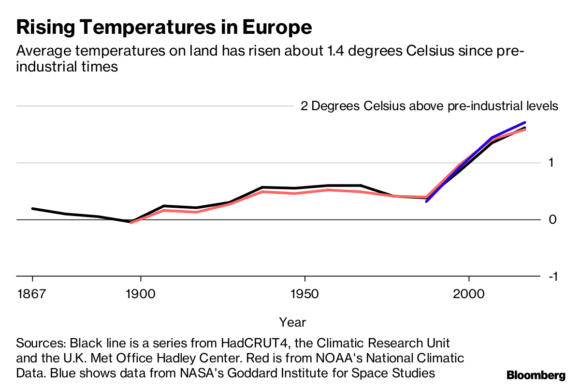 Copyright 2021 Bloomberg.
Was this article valuable?
Here are more articles you may enjoy.