Guy Carpenter & Co., LLC, the global risk and reinsurance specialist and a wholly owned subsidiary of Marsh & McLennan Cos., announced that David Priebe has been appointed to the role of chairman, effective immediately.
Priebe will continue to report to Guy Carpenter's president and CEO, Peter Hearn, and will continue as a member of the company's Executive Committee.
Priebe, who has held various leadership roles at Guy Carpenter since 1981, was most recently vice chairman of Guy Carpenter.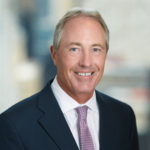 As chairman, Priebe will work with Hearn to integrate Guy Carpenter and JLT Re capabilities following MMC's April 1 acquisition of JLT. He will continue to work closely with John Trace, CEO of North America, to support key North America-based clients and will work closely with numerous global clients of Guy Carpenter.
Priebe also will continue to oversee the firm's recently created Global Capital Solutions Group, which is comprised of GC Securities and Global Risk Solutions, led by Shiv Kumar and Ed Hochberg, respectively. The Global Capital Solutions Group was created to bring together the combined firm's capital markets, non-traditional solutions, M&A advisory and third-party-capital-raising strengths into an integrated team that drives client profitability and growth.
"For the last several decades I have focused on advancing Guy Carpenter in the eyes of clients, markets and colleagues," said Priebe. "I am honored to be named chairman and am excited to continue to shape the future of the firm as we focus on helping our clients and colleagues grow."
"David is a natural leader who possesses broad global experience in reinsurance and a proven record of delivering success to clients," added Hearn. "His deep understanding of our business and our clients, combined with nearly 40 years of expertise in the industry, uniquely prepares him for the role."
Source: Guy Carpenter
Related Articles About Former Guy Carpenter Chairman, Newhouse:
Was this article valuable?
Here are more articles you may enjoy.