A year of unprecedented cyber-attacks, business interruption and supply chain disruption, along with natural catastrophe activity has pushed these three perils to the top of the list of global business risks in this year's Allianz Risk Barometer.
Cyber incidents top the Allianz Risk Barometer 2022 for only the second time in the survey's history (44% of respondents), business interruption drops to a close second (42%) and natural catastrophes ranks third (25%), up from sixth in 2021.
The report indicated that the awareness of the risks of climate change is growing among companies, achieving its highest-ever position of sixth (17%), up from ninth in 2021, according to the annual survey from Allianz Global Corporate & Specialty (AGCS), which incorporates the views of 2,650 respondents from 89 countries and territories, including CEOs, risk managers, brokers and insurance experts. (See chart below for full list of global risks identified in the report).
Diving into the survey findings, the report explained that a series of high-profile ransomware attacks, combined with problems caused by accelerating digitalization and remote working, pushed cyber risk to number one, up from third place in 2021, when it finished behind the closely-related risks of business interruption (BI) and the COVID-19 pandemic.
The report noted that the most feared cause of BI risks in this year's survey is cyber.
"Ransomware has become a big business for cyber criminals, who are refining their tactics, lowering the barriers to entry for as little as a $40 subscription and little technological knowledge. The commercialization of cyber crime makes it easier to exploit vulnerabilities on a massive scale. We will see more attacks against technology supply chains and critical infrastructure," explained Scott Sayce, global head of Cyber at AGCS, in a statement.
Business interruption ranks as the second most concerning risk following a year "of unprecedented global supply chain disruption," the report said. BI is a consequence of many of the other risks, such as cyber and natural catastrophes, and therefore is "of perennial concern for companies the world over."
Climate Change
The rise of natural catastrophes and climate change to third and sixth highest risks, respectively, is telling, said the report. "Recent years have shown the frequency and severity of weather events are increasing. In 2021, global insured catastrophe losses were in excess of $100 billion – the fourth highest year on record."
While Hurricane Ida in the U.S. was the costliest event, "more than half of the losses came from so-called secondary perils such as floods, thunderstorms, tornadoes and even winter freezes, which can often be local, but increasingly costly events," the Allianz report continued.
"The risks to businesses from global warming are being experienced with increasing force and immediacy – as direct damage after extreme weather events, but also leading to tightening regulation, and as threats to brand and reputation," said Line Hestvik, chief sustainability officer at Allianz, in the report. "In addition to acute issues such as pandemic management and the volatile economic environment dominating the day-to-day business of risk management, the pressure on businesses to act on climate change has increased noticeably over the past year, with a growing focus on the net-zero contribution."
Supply Chain Fragility
"The past 18 months have been a wake-up call for BI and risks are likely to remain elevated for the foreseeable future," said the Allianz report, noting that the pandemic has exposed the fragility, interconnectivity and complexity of modern supply chains, "and how multiple events can come together to cause problems, raising awareness of the need for greater resilience and transparency – 45% of respondents said recent supply chain disruption had had a large impact on their sector."
The supply chain disruption is expected to ease in the second half of 2022, COVID-19 permitting, according to the report. However, the supply chain vulnerabilities "exposed by a host of recent events, ranging from the Suez Canal blockage to the global shortage of semiconductors, could take companies years to fix and involve significant costs if, for example, they are looking to reduce reliance on critical suppliers – such as manufacturers in Asia – to build alternative supplies elsewhere in the world," it continued.
Business Interrupted
"'Business interrupted' will likely remain the key underlying risk theme in 2022," said AGCS CEO Joachim Mueller, in a statement accompanying the report.
"For most companies the biggest fear is not being able to produce their products or deliver their services. 2021 saw unprecedented levels of disruption, caused by various triggers. Crippling cyber-attacks, the supply chain impact from many climate-change-related weather events, as well as pandemic-related manufacturing problems and transport bottlenecks wreaked havoc," he added. "This year only promises a gradual easing of the situation, although further COVID-19-related problems cannot be ruled out. Building resilience against the many causes of business interruption is increasingly becoming a competitive advantage for companies."
Awareness of BI risks is becoming an important strategic issue across entire companies, said Maarten van der Zwaag, global head of Property Risk Consulting at AGCS, who is quoted in the report. "There is now a desire and willingness among top management to bring greater transparency to supply chains and to work with data to better understand the risks. Momentum has been building and increasingly businesses see resilience as a competitive advantage."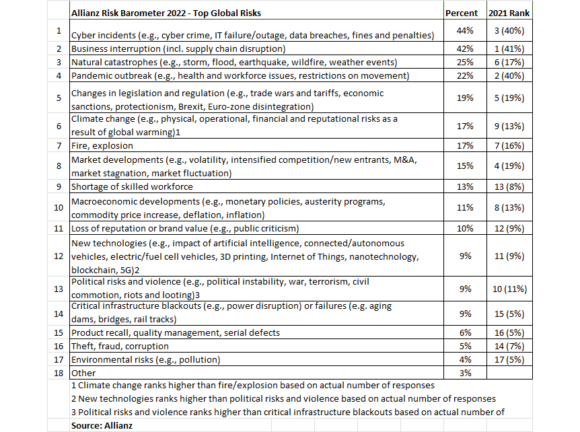 Other findings from the survey include:
Cyber security ranks as companies' top environmental social governance (ESG) concern (58%) with respondents acknowledging the need to build resilience and plan for future outages or face the growing consequences from regulators, investors and other stakeholders.
Climate change is another major ESG presence on the list with respondents ranking it as their second top ESG concern (40%).
More companies are presenting strategies for reducing greenhouse gas emissions in their operations and also analyzing business opportunities for climate friendly technologies and sustainable products.
The majority of respondents (80%) think they are adequately or well-prepared for a future pandemic outbreak.
Shortage of skilled workforce (13%) is a new entry in the top 10 risks at number nine.
Attracting and retaining skilled workers has rarely been more challenging as 69% of companies globally report talent shortages – the highest in 15 years, the report said, quoting a ManpowerGroup survey. Respondents rank this as a top five risk in the engineering, construction, real estate, public service and healthcare sectors, and as the top risk for transportation.
Changes in legislation and regulation remains fifth (19%) on the risk list. Prominent regulatory initiatives on companies' radars in 2022 include trade wars and tariffs, economic sanctions, protectionism, sustainability, Brexit, and data and big tech (where there is a global race to curb anti-competitive practices).
Fire and explosion (17%) is a perennial risk for companies, ranking seventh this year and in last year's survey.
Methodology
Survey respondents were questioned through October and November 2021 – a period that pre-dates awareness of the emergence of the Omicron variant of COVID-19.
The survey focused on large- and small- to mid-size companies. Respondents were asked to select the industry about which they were particularly knowledgeable and to name up to three risks they believed to be most important. Answers were from large-size companies with more than $500 million of annual revenue (1,208 respondents, 46%); mid-size companies with revenue of $250 million to $500 million (518 respondents, 20%) and small-sized enterprises of less than $250 million revenue (924 respondents, 34%).
Source: Allianz Global Corporate & Specialty (AGCS)
Topics Cyber Natural Disasters Commercial Lines Business Insurance Allianz
Was this article valuable?
Here are more articles you may enjoy.