Commercial insurer, CNA, is hosting a grand opening and key handover ceremony for CNA Center, its new, modern global headquarters located at 151 North Franklin Street in Chicago's loop business district on June 5, 2018, from 10:30 – 11:30 a.m. CDT.
"Founded in 1897, CNA's headquarters has been located in Chicago's Loop since 1900, but this move is about much more than where we are located or a new building — it is about a workspace that enables and encourages collaboration across all functions and dimensions," Dino E. Robusto, CNA's chairman and chief executive officer, said in the company's announcement.
"Chicago is a world-class city made up of diverse, vibrant neighborhoods, a multitude of cultural experiences, outstanding parks and recreation, eight professional sports teams and much more. The ease of global travel, employee commutes and the outstanding colleges and universities in Chicago and the Midwest gives companies located in Chicago a distinctive advantage for growing talent and our business," Robusto added.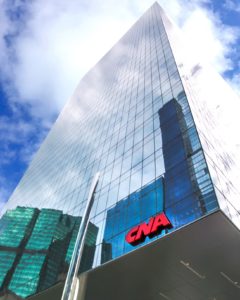 CNA commended John Buck, The John Buck Company and IA Interior Architects for delivering a next-generation workplace that made CNA's vision of a new global headquarters a reality.
CNA has a network of approximately 6,300 employees, thousands of partners and 79 locations.
In partnership with the City of Chicago, Franklin Street (north of West Randolph Street to West Couch Street) will be closed for the grand opening and key handover ceremony, which will feature remarks from Dino E. Robusto, Chairman and Chief Executive Officer of CNA, John Buck, Chairman and Chief Executive Officer of The John Buck Company, and elected officials from the City of Chicago.
CNA Center officially became the company's modern, global headquarters on June 1, 2018.
Source: CNA
Was this article valuable?
Here are more articles you may enjoy.