A $47 million settlement has been reached in an explosion that launched a van-sized boiler through the roof a St. Louis box company and onto a nearby laundry business, killing four people and injuring three more.
The Simon Law Firm said in a news release that the settlement was reached last month during mediation in advance of a trial that had been scheduled for August. KSDK-TV reports that it covers multiple wrongful death, personal injury and property damage cases.
The April 3, 2017, explosion inside the Loy-Lange plant killed Kenneth Trentham, who was working there. The nearly 2,000-pound (900 kilograms) tank then flew into nearby Faultless Healthcare Linen, killing Christopher Watkins, Tonya Gonzalez-Suarez and Clifford Lee.
The victims' attorneys blamed "a prolonged series of errors" that included deficient repairs.
The U.S. Chemical Safety and Hazard Investigation Board said in its report on the explosion that a steam condensation tank, used in the process of making corrugated packaging products, first sprung a leak in November 2012. A contractor made emergency repairs and less than a month later recommended the replacement of lower portions of the tank.
The tank parts were never replaced, investigators said. They also found no evidence that the city ever inspected the tank.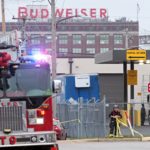 Engineers again noticed a leak on March 31 of this year. The steam generation system was shut down and a repair technician was scheduled to arrive on April 3. However, "despite the leak and the pending technician visit, Loy-Lange started up the steam generation system," the report said. The tank failure, caused by corrosion of a 6-inch ring that was part of the tank, appeared to have "occurred near the end of the startup process."
"The entire ring failed suddenly," the report said. "The tank circle blew away in one piece from the (tank), creating the conditions for the steam explosion." The result was a massive blast "equivalent to about 350 pounds of TNT" that "launched the storage tank like a rocket through the roof."
The tank rose to about 425 feet above street level and was airborne for more than 10 seconds before crashing through the roof at Faultless.
Related:
Copyright 2019 Associated Press. All rights reserved. This material may not be published, broadcast, rewritten or redistributed.
Was this article valuable?
Here are more articles you may enjoy.