There are far easier ways to spend one's leisure hours than slogging through tough early-morning runs, pedaling through sunburns and saddle sores and accidentally swallowing gulps of salt-, lake- or chlorinated water. But insurance professionals around the country say the personal and career rewards of becoming a triathlete far exceed the discomfort, hours and occasional humility involved. But there are a lot of both.
Traditional triathlons involve swimming, biking and running consecutively without rest. Race distances vary widely. The shortest, and most popular, is the sprint triathlon, which usually comprises a half-mile swim, 10- to 12-mile bike ride and a 3.1-mile run. The longest, the Ironman, comprises a 2.4-mile swim, 112-mile ride and 26.2-mile run. But there are numerous variations of race distances in between. Many triathlons also substitute other sports — for instance Nordic skiing, kayaking or canoeing.
But the general concept remains the same: Race through three disparate endurance events, completed back-to-back, with no rest.
In other words: just another day at many an insurance agency. Maybe that's why so many agents find comfort in triathlons. Or even a healthy addiction. Either way, triathlete-insurance agents around the country say that there's tremendous upside to participating in the sport as a benefit to their insurance careers.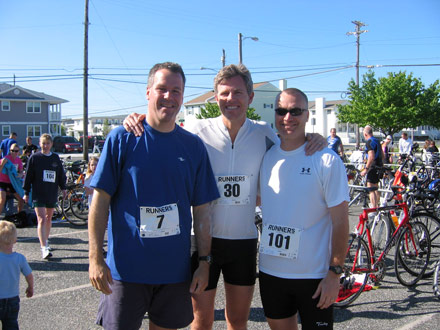 N.J. agent Tom Heist (center) poses after a triathlon with fellow insurance professionals Ken Bull (left) of The Iroquois Group and Glenn Watkins of Cumberland Insurance Group.
Healthy Living
"Once it bites you in the can you become a slave to it, although if you're going to have a vice, it's not a bad one to have," said Tom Heist Jr., of the Thomas H. Heist Insurance Agency in Ocean City, N.J. Heist began doing triathlons a decade ago, at age 35, when his father, Tom, then 62, saw one on television and decided he wanted to participate in a sprint race. Tom Jr. and his siblings joined up, too. "I was completely petrified," Heist said.
It's not that he was un-athletic. Heist ran in high school and played tennis in college, both of which he continued into his 30s. But he had scant experience swimming. He struggled through the swim, rode on his three-speed cruiser bike and finished up the run. His final time was one hour and 27 minutes.
Earlier this summer, Heist returned to the same race where, at age 45, he finished in one hour and 10 minutes — placing fifth in his age group. In the 10 years since he first began, Heist has completed dozens of sprint races, an Olympic distance (about twice the length of a sprint race) and even a half-Ironman.
Heist says competing and training for these events — which can occupy hours a day — has taught him as much about his physical limits as his mental ones. Those daily lessons reverberate in his professional life. "It sharpens you. You are competing and pushing yourself and that part of your personality is always trying to improve. It shapes you as a business person."
It also shapes and reflects the way he likes to run his business — which places a high focus on employees' health. Heist gives out pedometers to agency employees and gives monetary rewards to high-mileage workers. "We want a healthy workforce," Heist said.
He tries to bring that approach into the community as well. Heist's agency also sponsors the Ocean City Triathlon, a unique beginners-focused sprint event that features a lap swim and a run-bike-run segment. He also sponsors several other running events in the Ocean City area.
There is some ancillary business benefit, too. Heist has actually met new clients on the triathlon course. "I meet a lot of people who want to do business in the community through these races — after all you're dealing with the demographics."
Fertile Ground
That's more than an anecdote. The triathlon, by and large, is a white-collar sport. According to data from USA Triathlon, the sport's governing body, triathletes are economically far better off than the average American and have mean annual incomes of over $126,000. Forty-nine percent hold white-collar jobs. One in five are professionals such as doctors, lawyers or accountants. Executives, managers, consultants and entrepreneurs are also prevalent in the triathlon user base.
In other words: Statistics say triathletes hold tremendous potential as business partners, employees or clients for any insurance agency. But there's more to it, says Juan Andrade, 43, president of The Hartford's property/casualty operations and a veteran Ironman triathlete. "There's a certain personality type that is attracted to the sport. These people tend to be high achievers. When you get into training and working through 10 to 16 hours of pain, you have to be pretty committed and ready to push yourself. Those are characteristics for a person to be successful in any profession."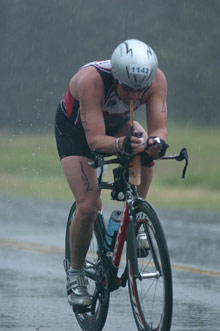 "High achievers" are attracted to triathlons, says Juan Andrade, president of The Hartford's property/casualty operations and an Ironman veteran.
His training schedule reflects that self-discipline, Andrade said. Most weekends, he puts in a five- to six-hour bike ride and three-to four-hour run, in addition to weekday running, swimming or biking workouts. He sees that discipline carrying over into his professional life, and says that the perseverance and self-discipline of amateur triathletes are certainly qualities that he looks for in employees and business partners.
Susan Combs, a 30-year-old New York agent who owns an employee benefits firm, Combs & Co., and is also an equity partner in two other insurance agencies in Downstate New York, says the competitive drive she honed in endurance sports comes out in her professional life. She has completed several triathlons in the last several years, and is heavily involved in other sports — she is an active personal trainer, plays football and softball and even trains for mixed martial arts (MMA) fighting, although she does not compete.
Competitiveness is one of her most important traits — and one of the biggest reasons for her success, Combs said. "I have always been a highly driven and competitive person. In the New York marketplace, you have to be competitive. If you get a lot of doors slammed in your face, you have to have the strength to say 'lets see what the next person has to say.'"
For many agents, triathlons and other endurance events provide a means to tap into those qualities of self-discipline and competitiveness, said Kent Vandervort, vice president of insurance agency Smith-Feike-Minton Inc., which has four offices throughout Southern Ohio.
Vandervort, 53, began getting into cycling about 12 years ago, a sport he picked up mostly to get in shape, He added running to the routine three years later, and in short order started running duathlons — basically, triathlons without the swimming. In 2004, he started participating in the Little Miami Triathlon, a twice-yearly event that combines canoeing, running and cycling along the Little Miami River.
In addition to helping him shed 50 pounds from his frame, his competing in triathlons and endurance sports has aided his professional life, he said.
"Self-motivation is the key with these types of sports," he said. "There also has to be a fair degree of self-assurance — being pretty comfortable in your own skin and knowing what you are able to do. I found that I could compete and hold my own. It gave me some additional confidence that I carried into my professional life. I found out that I'm even more competitive than I thought I was."
Why Agents Make Great Triathletes
"I have a theory about triathletes and I think insurance agents make great triathletes because we have short attention spans," said Jon Jamieson, 41, principal of Jamieson Insurance Agency Inc. in North Central Vermont. "That's what makes us great agents. One hour you can work on policy for a manufacturer and the next it's a nonprofit — no day is ever the same. If you like that in your vocation, then it makes sense you would like it in your recreation as well."
Jamieson competes in at least one nontraditional triathlon a year that combines running, river kayaking, biking or Nordic skiing. He also trains with his brother, a dedicated triathlete. He said an insurance agent's personality carries over into endurance sport training just as much as training carries over into the insurance arena. "We don't always play on teams well. We are lone wolves. You learn to take a lot of rejection, and are competitive," he said. "It fits the whole personality for an endurance athlete."
Jim Janasko, 51, principal of the Janasko Insurance Agency in Lorain, Ohio, shares that view. An accomplished swimmer, Janasko competes often as part of triathlon relay teams in addition to training local high school swimmers. "If you want to turn it to the industry view, most agency owners are entrepreneurs, and the successful ones are owned by true 'business owners' rather than technicians," he said. "Entrepreneurs like to compete using their own specific talents. They are not followers and they like to run with their own ideas. Those are the qualities involved in triathlons: learning discipline, keeping to schedules and setting and attaining goals."
Daniel Miller, who owns a Brightway Insurance agency franchise in Jacksonville, Fla., said the careful preparation triathletes make carries over into their insurance careers. The 30-year-old, who started competing in triathlons several years ago, said "You need to set things up carefully, and layout all your equipment just right. It's a lot like my typical day as an agent. In the morning I answer e-mails and prepare quotes, from 9 a.m. to 4 p.m. I'm on the phone selling, and from 4:30 to 6:30 p.m. I'm calling current clients and planning my next day. They're both very structured."
Emmanuel Albaret, an account executive at Hunter Insurance of Lincoln, R.I., said triathletes make great insurance agents because they develop a mantra that allows them to be successful in the face of challenges.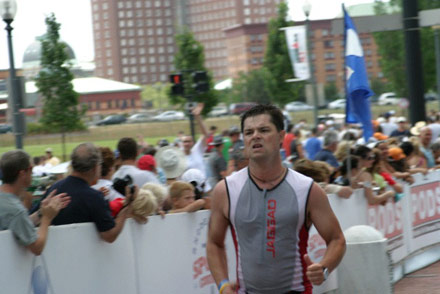 Emmanuel Albaret, an account executive at Hunter Insurance in R.I., approaches the finish line during the Providence half-Ironman in 2007. Triathletes make good agents, he says, because they learn to "never quit."
"Never quit," said Albaret, who last finished a half-Ironman in 2007, and now trains five days week. "When you're on the twelfth mile of the run and can't feel your legs anymore you don't quit because there is pride." There are also the elements of commitment and preparation that go along with it — essential tools for a salesman of any stripe.
"You can't cheat with triathlons: If you don't put in the hours, you can't get lucky. You need to be totally committed and prepared. It's the same in life as in business; you do it right or you won't last."
---
Connecticut-based editor Ken St. Onge completed his first triathlon, a sprint, in early August. He plans to do many more.
This article appears in the current issue of Insurance Journal.
Was this article valuable?
Here are more articles you may enjoy.