Speaking at an industry conference yesterday, the Federal Insurance Office's top official gave an update on his department's upcoming report on the U.S. insurance regulatory system.
FIO Director Michael McRaith said he has received close to 150 comment letters from the industry with recommendations on how to improve the regulatory system. The FIO also held dozens of meetings with industry participants in the past few months. McRaith says there is a great deal of difference of opinions regarding marketplace and prudential oversight. The FIO report is scheduled to be released this month.
McRaith spoke to insurance executives and analysts at the Insurance Information Institute's annual Property/Casualty Insurance Joint Industry Forum, held in New York.
FIO Prepares for Industry Report
The FIO is preparing a report on how to improve and modernize the system of insurance regulation in the United States. McRaith said the report is important because "the U.S. system should be evaluated in the context of the international marketplace and international regulatory developments."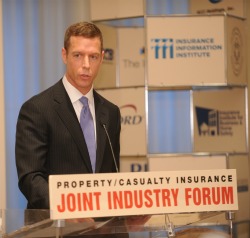 On Oct. 17, the FIO began accepting comments from interested parties; the comment period closed on Dec. 19.
"We are grateful for every one of the nearly 150 comments received," the director said, adding that all letters can be viewed at Regulations.gov
In addition to the comments, he said, the FIO held dozens of meetings with interested parties, including consumer advocates, industry representatives, agent and broker associations, academics, and state government associations.
On Dec. 9, the FIO held a conference at the Treasury Department in Washington, where McRaith sought panelists' views on marketplace regulation, prudential oversight and international matters. He said that on international matters, all panelists agreed that the FIO's leadership role is of critical importance. However, marketplace and prudential oversight stimulated "a robust discussion, but rather little agreement."
"It goes without saying that this first report of FIO is a significant and broad undertaking," McRaith said. He added that there will be other reports down the road. "You should assume that this will not be FIO's last report. We will continue to study, report on and discuss a variety of issues important to the insurance sector, to the industry, and to insurance consumers."
FIO Represents U.S. Insurance Industry Abroad
McRaith also said at the I.I.I. conference that the FIO is playing a critical role representing the U.S. insurance industry abroad and partnering with international insurance regulators. The FIO became a full member of the International Association of Insurance Supervisors (IAIS) this past October
"The Federal Insurance Office is a significant development in the insurance world – and I mean that literally. In a role that will continue to expand, the United States, through FIO, for the first time, has a central, federal point of contact for the international insurance sector and for insurance supervisors from around the world," he said.
"It has been gratifying that supervisors from every continent have warmly welcomed me and have shown a fantastic desire to work with FIO on major international issues."
McRaith: 'FIO Is Not a Regulator'
The FIO chief also reiterated that his office is not in the business of regulating insurance.
"To be clear, FIO is not a regulator – that remains the province of the states," he told insurance executives.
However, he said, the FIO will be increasingly well-suited to be engaged and assertive, when necessary, to offer views, leadership, and guidance on insurance. "We intend to become a source of expertise within the federal government, expertise that understands all aspects of the marketplace, regulation, and international matters," McRaith said.
Was this article valuable?
Here are more articles you may enjoy.