Insurance customers are price-sensitive shoppers, and they have become more so given the financial pressures of the struggling economy.
Many observers fear that standard coverage is becoming commoditized to the point where customers routinely pick the cheapest policy for a given coverage without regard to brand, service reputation, or product features. As one agent said: "It used to be easier to sell better coverage at a higher cost, but due to the economy, most people are more concerned with cost."
However, new research shows that this is the case far less often than many suspect. Many independent agents and their customers are willing to select higher-priced insurers for certain factors, according to preliminary findings in a study by Channel Harvest Research. This finding suggests that carriers can compete effectively on factors other than price.
The survey of independent agents on their attitudes regarding carriers — on a wide range of issues — was sponsored by Insurance Journal.
It is true that about one-quarter of independent agents report that their customers almost always go with the cheapest policy — at least 90 percent of the time.
"Companies are so impressed with themselves and their coverage that they have lost touch with the reality that the consumer is looking for the lowest price, period," one agent said. "The name, the coverage selection, the service almost make no difference."
However, one third of all agents taking the survey said they and their customers end up selecting more expensive carriers 25 percent of the time or more. Some reported that more than half of clients go with higher-priced policies for various reasons.
What influences this? Several things do, according to the survey. While cost is a factor, customers still need the proper coverages and product features to meet their needs — even if that means going with a higher-priced carrier. Having the right coverages and add-on features were the most commonly cited by 60 percent of agents selecting. Even though this is more of an issue in larger commercial policies, about half of personal agents still note that coverages and add-on features were what drove the customer to a higher-priced carrier. As one agent said: "We highlight the coverage differences so if a carrier has a good coverage enhancement, it can win the business."
However, customer service and brand reputation are also significant factors that lead agents to select higher-priced companies. Almost one-third of agents say they recommended — or their customer chose — more expensive carriers because of prior poor service or claims experiences with the low-cost carrier. This held true for both personal and commercial lines-focused agents. In addition to wanting to make sure their customers have excellent treatment generally, many agents believe the carrier's claims experience reflect on agents themselves.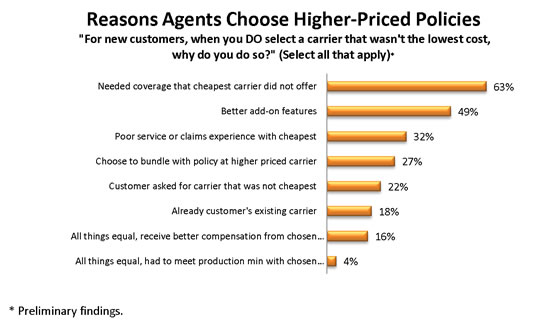 About the Survey
The study, "2012 Survey of Agent-Carrier Relationships," is the fifth in a series examining independent agents' views on marketplace issues. The survey was sponsored by Insurance Journal and conducted by Channel Harvest — a partnership between Aartrijk and Campbell Communications.
The survey instrument covered more than 90 separate questions. More than 1,500 agents responded to the survey and passed validation criteria. Quantitative survey results are presented in a variety of formats, including importance rankings of specific carrier attributes, industry issues, and open-ended agency comments about what breaks superior carriers out from the pack. Information quoted in this article and the included graph is based on preliminary data and final survey findings could differ slightly.
For information on obtaining the survey report, contact John Campbell at john@channelharvest.com or 202-363-2069.
Was this article valuable?
Here are more articles you may enjoy.