The Travelers Companies Inc. said its Business Insurance segment pricing continued to rise in the third quarter — led by workers' compensation and commercial auto. Rates also continued to climb in the Personal Lines segment.
CEO Jay Fishman commented during Thursday's earnings conference call that he continues to assume the "operating environment has changed."
"Notwithstanding the benign weather we saw in the third quarter, Mother Nature seems to be increasingly unpredictable. And we believe the low interest rate environment will continue to impact our businesses for the foreseeable future," CEO Fishman said.
"Therefore, we will continue to seek improved pricing and take underwriting steps necessary to improve profits and produce higher returns on capital. This remains business as usual for us."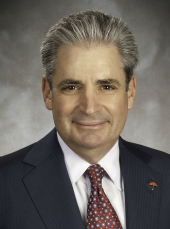 Travelers reported $864 million net profit for its third quarter — up 159 percent from the same period a year ago.
In the Business Insurance segment, the company said it had renewal premium change, pure rate and retention all increasing in the third quarter, according to Travelers President and Chief Operating Officer Brian MacLean.
Renewal premium change (the estimated change in average premium on policies that renew, including rate and exposure changes) was 9.3 percent. Rate, 7.8 percent and retention was above 81 percent, MacLean said.
The third-quarter Business Insurance segment rate increases were "pretty broad based," MacLean said. He said the range across the lines is 6 percent to 10 percent — with workers' compensation and commercial auto getting the most rate increases.
"It was about 9 percentage points in commercial auto and comp was around 10, so those were at the top end of the spectrum," MacLean remarked during the conference call. "It's been consistent with what we have shown in the past. We have talked about the bodily injury trends in the auto business, both commercial and personal. So that's one of the reasons why we're getting these increases."
"These increases in pricing — along with the growth in exposures and audit premiums — helped to drive net written premiums up 5 percent year-over-year," he noted.
As for rate increases for the fourth quarter, MacLean said that while it's too early to tell for sure, indications are similarly encouraging. "The anecdotes right now feel pretty good," he said.
Not a One-Size-Fits-All Strategy
MacLean said that rate increases are applied selectively — with rates holding steady for the company's best-performing commercial accounts with long-term loss ratios of less than 60 percent, which make up the bulk of Travelers' business. "As we said many times, it's not a one-size-fits-all strategy," he said. "Actual pricing and underwriting decisions are made on an individual account basis and include many additional dimensions beyond loss ratio."
MacLean said that Travelers has been doing a "great job" retaining its best accounts, while improving the profitability of the average-performing tier and creating opportunities to get higher rate increases on poor-performing accounts.
MacLean acknowledged that new business was somewhat lower in the third quarter as it has been for the last several quarters. "Over time, pricing on the new business we have written has improved. Given our strategy to improve margins, we are very comfortable with the volume trade-off," he said.
Premium Increases in Personal Insurance
In the Personal Insurance segment, MacLean said Travelers was especially pleased with the significant pricing gains the company continues to achieve in both auto and home. Auto renewal premium change was 8.7 percent during the third quarter, up more than 3 points from the second quarter, he said. Homeowners was up over 1 point to 12.4 percent.
In Homeowners, in addition to rate increases, Travelers is also continuing to "aggressively pursue terms and conditions changes that reduce risk and improve returns," MacLean said.
The roll-out of these modifications is ongoing, but the progress thus far is already substantial, he said, adding that in the past year, Travelers made underwriting guideline changes and increased deductibles in more than 40 states. "We feel good about the progress, but we see the need to continue to push these levers," MacLean said.
Traditionally, Travelers has been successful in getting deductibles in the coastal hurricane-exposed areas. What the company is focusing on now, MacLean explained, is the inland tornado and hail-exposed areas. The company is also taking steps to further scrutinize the age and quality of the roofs and make them an important underwriting point, he said.
Topics Auto
Was this article valuable?
Here are more articles you may enjoy.