After two years of double-digit percentage increases in advertising spending, GEICO Corp. boosted its ad spend by just over five percent in 2013, according to research by SNL Financial.
GEICO, with its Gecko and Maxwell the pig mascots, has been the leader in advertising spending among U.S. property/casualty insurers for at least five years through 2013, according to SNL. GEICO is still the only company that spends more than $1 billion annually on advertising. It recorded $1.18 billion in ad spend in 2013, up from $1.12 billion in 2012.
Allstate Corp., which increased its spending on advertising seven percent in 2013 after an 11 percent increase in 2012, has recently taken direct aim at GEICO. Its new Esurance brand commercials state that "seven and a half minutes could save you on car insurance," a counter to GEICO's tagline that customers can save 15 percent on insurance in 15 minutes.
State Farm Mutual Automobile Insurance Co. increased spending three percent to to $802.8 million in 2013 following a year of negative growth. State Farm's ad spend peaked in 2011 when it booked a 29 percent year-over-year increase to $813.5 million.
SNL gathers data reported for advertising by P/C companies from U.S. statutory annual statements.
The chart below includes 2013 data for the three companies that have spent the most on advertising in recent years. These companies are the largest personal lines writers in the U.S.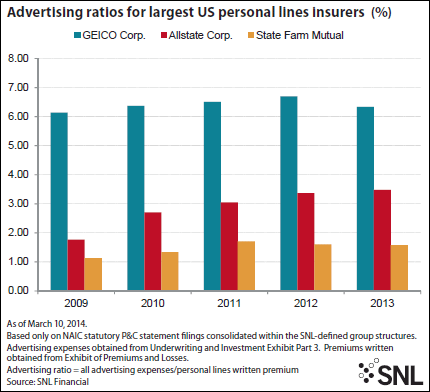 Topics USA
Was this article valuable?
Here are more articles you may enjoy.