A blood-red blotch that stains California kind of looks like its own nation slowly overgrowing the Western region of the U.S. map.
Despite the gore, the latest version of the U.S. Drought Monitor map just out today actually looks slightly better for the country as a whole thanks to a recent string of showers and thunderstorms earlier this week that moved across the Central Plains, portions of the Midwest and the central and western Gulf Coast. States like Iowa, Kansas and Nebraska received more than six inches of precipitation.
But it didn't rain much where it was desperately needed most.
The weekly map designates conditions from "Abnormally Dry" with a ranking of D0 to the worst designation at D4, which is considered "Exceptional Drought."
The color spectrum goes from yellow to dark red, and it's that darkness that completely envelops California, and it's a situation that has grown increasingly dire in the span of a half-a-year.
In January less than one-tenth of the state was under D4 conditions. Today more than 60 percent of the state was under exceptional drought conditions, a record for the Drought Monitor, which dates back to 2000.
In fact, the severity of a drought like this is one for the books.
"A D4 should occur on average once every 50 to 100 years," said Richard Heim, one of the map's authors. "It's what we call a second-percentile event."
Based on historical weather data D3 rankings tend to occur every 20 years, D2 every 10 years, and so on. Looking at the map one can see broad swaths of D3 and D2 areas throughout the West and Southwest.
Unlike other extreme weather events, droughts don't occur on a regular basis. However, they can occur in regular episodes, according to Heim, a meteorologist in the climate monitoring branch at NOAA's National Climatic Data Center.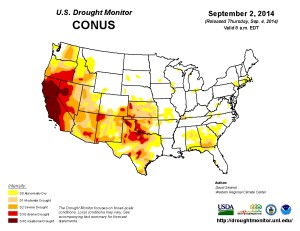 The last severe drought episodes for the U.S. were in the 1950s, and before that were the deadly drought episodes of the 1930s that brought us the Dust Bowl event that dramatically changed the nation.
While California has been proclaimed to be under drought for the last three years, the entire drought episode has lasted much longer than that.
"We just happen to be in an episode that started in about 1999 that the drought's been occurring frequently and across the country," Heim said.
Here's a scarier thought.
Some scientists are beginning to label this a "mega-drought," or "paleo mega-drought," with the "paleo" thrown in to signify just how far back scientists have gone to look at tree rings and ancient lake levels.
A Cornell University professor thinks there's up to a 50-percent chance of a mega-drought the Southwest – states from California to Texas – lasting 35 years or longer.
Toby Ault, a professor of earth and atmospheric sciences at Cornell, studied multidecadal and 10-year cycles, and used assessments from several scientific studies that forecast lower precipitation levels over the region in coming years driven by climate change.
Ault's study is set to be published in the Journal of Climate later this month.
"Certainly this would be outside anything we've seen in the 20th Century," he said, adding that the intensity of the drought could match what the U.S. experienced in the 30s and 50s with a much longer duration.
Such a drought is not unprecedented from a global perspective. Parts of Africa suffered through a mega-drought in the 70s, 80s and 90s.
But for the U.S. the magnitude of mega-drought that Ault is talking about occurs on the order of one or two per millennium.
The following scientific steps to take are to translate such a drought into the socioeconomic impact on the U.S., which is just what Ault plans to do next.
"If we have a mega-drought, in some scenario we should try can calculate how much water is going to be in the Colorado River, how much snowpack is in the mountains, how much moisture is in the soil," Ault said. "And what would all that mean for water managers and stakeholders and what are the economic and financial consequences?"
Heim with NOAA cautioned that considering the type of science involved, Ault's study should be considered a "probability not a forecast."
Although, Heim quickly added: "Yeah, it is warming in the West. The data shows that indisputably."
So are we in a 35-year long drought?
"We won't that until 20 more years," he replied.
Topics USA California
Was this article valuable?
Here are more articles you may enjoy.