Analysts who predicted the U.S. property/casualty industry would have a tough time topping its 2013 results in 2014 were largely correct as there was some slippage.
However, while property/casualty insurers were not as profitable as they were in 2013, they did manage an underwriting profit again in 2014 and other 2014 metrics were better than historic averages.
Insurers' net income fell 12.5 percent to $55.5 billion in 2014 from $63.4 billion in 2013, and the industry's overall profitability dropping to 8.4 percent from 10.2 percent, according to the annual financial results reported by ISO and the Property Casualty Insurers Association of America (PCI).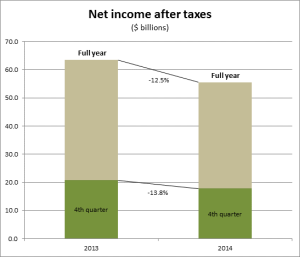 Insurers' combined ratio was 97.0 in 2014, a small deterioration from 96.2 in 2013.
Net written premium growth slowed slightly from 4.4 percent in 2013 to 4.1 percent in 2014. Growth for insurers writing mostly commercial lines slowed the most, at 3.0 percent in 2014 down from 4.0 percent in 2013, while premium growth for insurers writing mostly personal lines accelerated to 5.8 percent in 2014. Insurers writing more balanced books of business saw premium growth slip to 3.3 percent from 4.1 percent.
Policyholders' surplus increased by $21.3 billion in 2014 to $674.7 billion, a new record high.
Moderate Year
Insurers have reason to feel good for what was "another moderately good year," according to Robert Gordon, PCI's senior vice president for policy development and research.
"The industry's profitability, premium growth, and underwriting ratios all performed better than long-term historical averages, and policyholders' surplus reached record levels," he said.
Dr. Robert P. Hartwig and Dr. Steven N. Weisbart, both of the Insurance Information Institute, agree that 2014 was a year of moderation.
"The industry's performance in 2014 could be considered a return to long-term trends, neither as strongly profitable as in 2013 nor as catastrophe-impacted as in 2011 and 2012," the I.I.I. economists said in their analysis.
Cat Losses
While profitability, premium growth, and underwriting ratios performed better than average, insurers were helped in 2014 by below-average catastrophe losses. Property losses from catastrophes striking the U.S. grew $2.6 billion to $15.5 billion in 2014 from $12.9 billion in 2013. The $15.5 billion in direct catastrophe losses were $7.2 billion below the $22.7 billion average for the past 10 years.
"Right now, good underwriting results are a must for insurers. But with much of the improvement in underwriting results for the last two years attributable to moderate catastrophe losses and dependent on continued reserve releases, one has to wonder just how sustainable the net gains on underwriting will be," said Beth Fitzgerald, president of ISO Insurance Programs and Analytic Services.
Harwtig and Wesibart said the industry's ability to fully recoup its losses to surplus even in the event of disasters like Sandy, which produced $18.8 billion in insured losses in 2012, is "continued evidence of the P/C insurance industry's remarkable resilience in the face of extreme adversity."
The bottom line, said the I.I.I. analysts, is that the industry "is, and will remain, extremely well capitalized and financially prepared to pay very large-scale losses in 2015 and beyond."
Investments
Insurers' net investment income – primarily interest on bonds and dividends from stocks – dropped 2.5 percent to $46.2 billion last year, down 16.2 percent from its peak of $55.1 billion in 2007.
"The drop in investment income is a result of historically low investment yields as the economy slowly recovers from the financial crisis and its aftermath," Fitzgerald said.
Looking ahead, Hartwig and Weisbart said personal and commercial lines exposures should continue to increase along with GDP growth and continuing improvement in the job market. Job growth will benefit workers' compensation insurers in particular.
Highlights of 2014
Some highlights of 2014 results as reported by ISO and PCI:
Net written premiums rose $19.5 billion, or 4.1 percent, to $496.6 billion for 2014 from $477.0 billion for 2013. That growth was down from 4.4 percent in 2013 but above the 1.6 percent average of the last 10 years.
Net gains on underwriting decreased from $15.2 billion in 2013 to $12.3 billion in 2014, a change mainly attributable to the growth in net losses and loss adjustment expenses, which grew by $19.7 billion, or 6.2 percent, to $334.7 billion. The increase in overall LLAE is predominantly due non- catastrophe losses. Private insurers' net LLAE from catastrophes grew $2.8 billion to $16.8 billion in 2014, while other net LLAE rose $16.9 billion, or 5.6 percent, to $317.9 billion in 2014 from $301.0 billion in 2013.
Policyholders' surplus climbed $21.3 billion to a record high $674.7 billion as of December 31, 2014, from $653.4 billion at year-end 2013. Additions to surplus in 2014 included insurers' $55.5 billion in net income after taxes and $11.5 billion in unrealized capital gains on investments (not included in net income).
The property/casualty industry's results include the contribution of mortgage and financial guaranty (M&FG) insurers. Excluding M&FG insurers, the industry's rate of return fell to 8.2 percent in 2014 from 9.8 percent in 2013.
Q4 2014 Results
The industry closed out 2014 with good underwriting results in the fourth quarter. According to the ISO and PCI report:
Fourth quarter 2014 net gains on underwriting improved to 6.4 percent of the $125.3 billion in premiums earned during the period compared with fourth quarter 2013.
The industry's combined ratio improved to 94.9 in fourth quarter 2014 from 97.2 in fourth quarter 2013. At 94.9, the combined ratio was the lowest recorded in nearly three decades. The fourth quarter combined ratio has averaged 106.5 since 1986 but has reached as high as 123.3 in 1992.
Net income fell to $17.8 billion in fourth-quarter 2014, down $2.9 billion from $20.7 billion in fourth-quarter 2013.
Property/casualty insurers' annualized rate of return on average surplus fell to 10.6 percent in fourth-quarter 2014 from 13.0 percent a year earlier. Excluding M&FG insurers, the insurance industry's annualized rate of return fell to 10.5 percent in fourth-quarter 2014 from 12.8 percent in fourth-quarter 2013 as net income after taxes dropped to $17.2 billion from $19.9 billion.
Fourth-quarter 2014 net gains on underwriting climbed more than 60 percent to $8.0 billion from $5.0 billion in fourth-quarter 2013.
Related:
Was this article valuable?
Here are more articles you may enjoy.