Aite Group study finds that on average consumers will pay their auto insurance eight times per year and their property insurance five times a year.
The Aite Group report, P&C Insurance: How Consumers Pay Their Bills, examines consumer preferences in the United States when it comes to paying property/casualty insurance bills.
Aite Group analysts suggest that insurance carriers that pay attention to the actual payment transaction can create value for their policyholders. Even though a "set it and forget it" approach is increasingly gaining favor, carriers should remember that a significant portion of clients prefer a more analog experience. The challenge for carriers is to strike a balance between analog methods and channels while promoting newer ones, according to the report.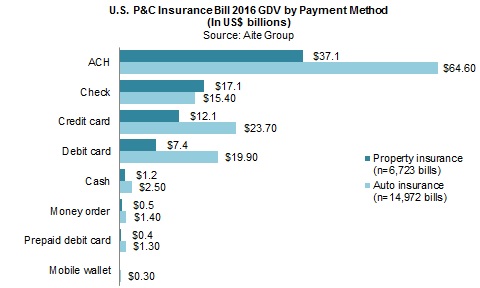 "Not all people, not even all millennials, want a completely digital payment experience," says Aite Group senior analyst Jay Sarzen. "P&C carriers should embrace this and recognize that there could always be some people, old or young, who will want a traditional manner of paying their bills."
The report is based on a Q3 2016 Aite Group survey of 2,429 U.S. consumers and focuses on how different generations pay their P/C insurance bills.
Was this article valuable?
Here are more articles you may enjoy.