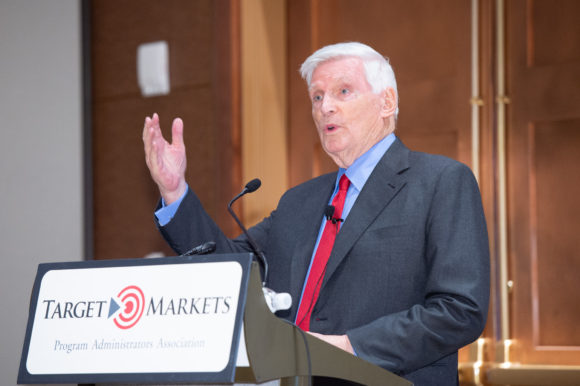 Insurance industry trailblazer Patrick Ryan thinks the insurance program business could be headed for interesting times given recent consolidation in the retail insurance agency sector, an influx of capital and the recent purchase of a large program manager by American International Group (AIG).
Speaking to attendees at the Target Markets Program Administration Association's annual conference on Oct. 22, the founder and CEO of Ryan Specialty Group and former CEO of Aon noted that wholesalers today face a reduced number of retail agencies to serve as a result of consolidation.
Among the "tailwinds" that will impact managing general underwriters (MGUs) and program administrators in the near future is what Ryan called a "forceful change" – or the consolidation of "tier-one" or large retail brokers. Citing as an example the recent Brown & Brown acquisition of Hays Companies, which he called a "very, very smart move," Ryan said MGA and wholesaler opportunities are shrinking as retailers become bigger. Thus the role of binding authorities becomes even more important and the benefits of programs are enhanced because of the specialization they offer.
Private equity is interested in building these retailers into "much larger and larger enterprises," he said. "But what's that do to the MGA opportunity? What does that do to the wholesalers' opportunity? It limits it. It shrinks it more, so the role of the binding authorities, we believe, is next.
"We think that binding authorities and all of the benefits of program business, picking up industry specialization, but certainly the ability to expand in scope and scale with higher renewal retentions, and often they have programs inside of them, as you know. And so that we feel is a real tailwind for our business and this role that we're playing altogether."
At the same time, capital providers are eyeing the managing general agency (MGA) space, specialty lines and new products because they like the idea of delegating their authority to an MGA or MGU rather than investing in employees, infrastructure and the commitments that go along with that.
"People are finding that to be very attractive and moving in to that area," he said.
Ryan wondered if AIG's recent acquisition of large specialty program manager Glatfelter Insurance Group will "make a new strategic statement of carriers buying up MGUs."
He said he has had carriers ask him if moves like the AIG/Glatfelter acquisition will happen on a continuing basis, and if so, will carriers feel they better "get into the game."
"Stay tuned on that … it impacts everybody in this room. It certainly impacts [RSG]," he said.
Technology
Ryan said the need to invest heavily in technology is pressuring the entire industry, including the program space and MGAs, to decrease the cost of operations and, in many cases, commission.
"Carriers have invested a lot of money [in technology], but we as MGUs have to be able to handle multiple carriers. And so that technology investment is something that we all face, and I think is a headwind for a lot of people," he said. "The price of entry and success for MGUs in the SME [small medium enterprise] sector is going up, but the rewards, I think, are fantastic."
Ryan said the consolidations are a real opportunity for program managers who do invest in technology, but issued a warning to attendees on the subject:
"There are people who are looking at those industries, those programs, and looking to replicate them with trading partners that they do have a relationship with," he said. "And I think what we do about that is really get to know the retailer, get the retailer to know who you are. They need to know your financial strength … your coverage; they need to have an understanding of who they're trading with, or they're going to reduce the number of people that they trade with."
Growth Opportunities
Setting up new underwriting facilities is one way for MGUs to expand and diversify and ultimately grow, Ryan said.
"All those fundamentals that you've used to start and build and harvest existing underwriting facilities, use to start another one," he said.
He said a strategy he's always believed in is to blend organic growth with mergers and acquisitions.
"That gives you the opportunity to grow at an even greater rate," he said.
But ultimately, MGUs and program administrators need to decide how they will handle technology, "because if you don't decide how you're going to handle technology, technology will handle you," Ryan stressed.
Ryan said one of the most enjoyable times in his career with Aon was in the '70s and '80s when the firm was "basically an MGU [managing general underwriter]" until it later became a retail broker in the '90s.
"I reflect back on that because the ability to be an entrepreneur in this industry has been one of the great joys of my life. I always wanted to be an entrepreneur … the ability to start a business with sweat equity and no capital is unique to this industry and very difficult to do," he said. "But throughout this room, I know that many of you have done that."
Ryan called the program business segment a the leader in innovating and solving problems in insurance.
"The part of insurance industry I have always liked the best is sitting in this room, because innovation in our industry has basically come from this sector of the industry," Ryan said.
The program business, he said, is not as well known for the "characteristics" that it has.
"Innovation is one for sure, but really [it's] the highest organic growth of any sector – programs have been growing faster than retail … faster than reinsurance, faster than wholesale, and so it's a great niche that really is a growth opportunity," he said. "There is strong demand for a lot of additional products focused on industry solutions and product solutions within that industry."
Ryan noted that the fragmentation of the insurance industry that many point to as a disadvantage he actually thinks is an advantage, "because our fragmentation opens up the opportunity for entrepreneurs" and innovation, he said.
Returning to the specialization that is manifested in MGUs, MGAs, programs and binding authorities was one of the motivators for him to start Ryan Specialty Group nearly 10 years ago after retiring from 41 years as head of Aon, he said.
Ryan said he didn't want to retire from the insurance business altogether and instead return to the "foundation of the success" of Aon.
"When we founded RSG in 2010, we were able to identify … some tailwinds that were going to be very, very important – that was the continuing roll up of retailers who were then making the decision that they were going to cut back on the number of wholesalers they would use," Ryan said. "We thought that's a great opportunity for a newly created wholesale group."
Topics Insurtech
Was this article valuable?
Here are more articles you may enjoy.