Selling insurance to cannabis dispensaries may the business in which to be in the very near future.
A new report claims that cannabis retailing could become one of the "most profitable specialty store categories ever."
The report, From Dispensaries to Superstores: Opportunities in US Cannabis Retail, out this week from Arcview Market Research and BDS Analytics, shows there are currently 197 funded companies, with $225 million invested and 1,200-plus investors in the space.
And that's with heavy-handed regulation in less than a dozen adult-use states and 33 medicinal states, and ongoing federal prohibition that treats cannabis as a Schedule I drug – in the same category as heroin and LSD.
Currently, licensed retail cannabis operations have "ample prospects for sustained growth beyond 2024," and that growth will be driven by soon-to-be legal medical-use states, such as Texas, and coming adult-use states, like Florida, the report notes. According to the report, 71% of consumers in adult-use states and 37% in medical states describe cannabis consumption as recreational or social, while 56% in adult-use states and 53 percent in medical states cite health or medical reasons.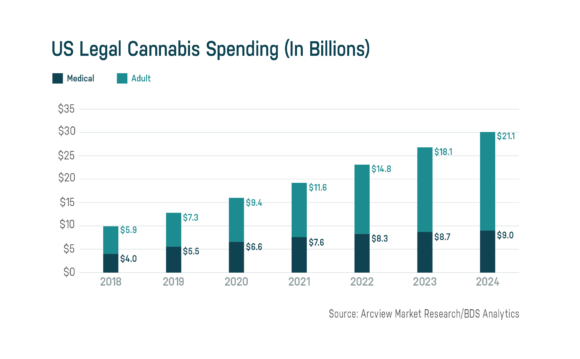 "Retail is extremely exciting," said Jeff Samuels, the cannabis and hemp practice lead at Embroker's New York operation.
Embroker deals with cannabis clients on national level, and with clients in every aspect of the market – direct-to-consumer, CBD companies, publicly traded multistate operators.
Samuels says dispensaries currently account for 20% to 25% of his book of business.
However, he said it's thinking small to view dispensaries as the sole opportunity the potentially booming retail landscape has to offer. Ancillary businesses, such as emerging consumption lounges, and delivery operations, are also huge opportunities for brokers, he said.
As more and more dispensaries open up, delivery companies like Ease will pop up and offer opportunities for brokers who want to sell them insurance, and cannabis consumption lounges, which are becoming popular in cities like San Francisco, which may require unique coverages and have to pay high premiums.
"Once consumers are more comfortable with the product, I think it's going to be really an interesting area to watch," he said of the ancillary cannabis market serving retailers.
Inhalables, or vapes, has so far been one of the most interesting areas to watch in the cannabis industry – mostly for the wrong reasons.
The BDS report notes there are "enormous product opportunities" that lie outside traditional inhalables. That should be welcome news to cannabis businesses pinned in the center of an ongoing national vaping crisis.
The Centers for Disease Control reported an additional 125 cases of serious lung injuries related to vaping as of Oct. 22, compared with 180 additional cases a week earlier, in an outbreak that has now reached all but one U.S. state plus the District of Columbia and the U.S. Virgin Islands, and killed at least 34 people.
While the "topicals and other cannabis products" category currently makes up a small portion of spending, the price points commanded by those products is significantly higher, with the topical average selling price at $28.80 in the second half of 2019, the BDS report states.
It's products like these that may help already impressive U.S. legal cannabis sales, which broke $9.8 billion in 2018. BDS forecasts sales to rise at a compound annual growth rate of 20% through 2024, to top $30 billion.
"By that time, every U.S. state and territory will have legalized cannabis for at least medical use and 23 for use by all adults within their borders," the report states. "Even then, just 47% of Americans will have access to adult-use stores so another wave of growth lies beyond 2024."
This puts cannabis on track to become a mainstream product category, reflecting the fact that about one-quarter of American adults report consuming some cannabis in a typical six-month period (38% in states where it is fully legal to do so), according to the first half 2019 study by BDS Analytics Consumer Insights.
Not everyone is going all-in on selling insurance to retailers just yet.
John L. Balian, vice president with Wood Gutmann & Bogart Insurance Brokers in California, is in the niche of selling insurance to tribal business in the cannabis space.
Balian is interested in all the cannabis business he can get, but he's not putting a lot of resources into selling insurance to retail cannabis operations at this time.
He'd like to see states like California make some changes to reduce the advantages that illicit businesses have over legitimate operators, largely due to after-tax prices of the product and the regulatory burden.
The legal market in California represents just over 54% of the overall cannabis spending in the state, while states with "more supportive" regulatory environments like Colorado, Oregon and Washington, are on track to shrink the illicit sales percentage to 30% or less of spending by 2024, according to a report out in August.
"I think the state and the municipalities have to make it more of a level playing field for the legal businesses," Balian said. "It's really put a damper on the legal industry in general in my opinion."
The BDS report also explores the possibilities of adult-use becoming legal at the federal level.
According to the report, when and if that happens, cannabis retail will be the place to be for those who want to make money.
"There are several existing giant industries that can provide a hint of where cannabis retailing goes from here, basically those that also market mildly psychoactive substances with a culture of connoisseurship such as specialty coffee, craft beer and fine wine," the report states. "Each of those specialty store types started with enthusiastic single store operators who were able to keep a profitable niche for themselves even as the bulk of total sales for their product category went to mass producers and mass merchants."
Cannabis specialty stores in both medical and adult-use markets find themselves in "an unprecedented and potentially very lucrative position," the report notes. That of being government-licensed, exclusive purveyors of a hugely popular consumer product.
Businesses in any industry hope to have one "protective moat a factor" that protects them from the kind of competition that can put downward pressure prices and profits.
The report notes that cannabis stores have three of them:
Against other specialty stores: Local jurisdictions general limit the number of cannabis retail licenses they will issue, often to unreasonably low numbers.
Against mass merchants and e-commerce: Federal prohibition is keeping the Walmarts and Amazons of the world on the sidelines, at least for a while.
Against the internet: Whole economic sectors have been devastated by the web newspapers, video and record stores, travel agents and more. With cannabis, there is no electronic replacement for physical products.
Take away federal prohibition, which some believe is likely at some point in the future, and the sky's the limit.
"That means cannabis retailing could become one of the most profitable and enduring specialty store categories ever," the report states.
Related:
Was this article valuable?
Here are more articles you may enjoy.